Gilbert Arenas couldn't believe that Atlanta Hawks star Trae Young ranked just 12th among Eastern Conference guards in voting by fellow players for this year's All-Star Game. The former NBA star reacted to the outcome, joking that the players who voted should undergo drug testing.
View this post on Instagram
Young responded and agreed with Arenas on the craziness of his low ranking. The Hawks star also explained that not all players vote, although he declined to go into detail about that for now.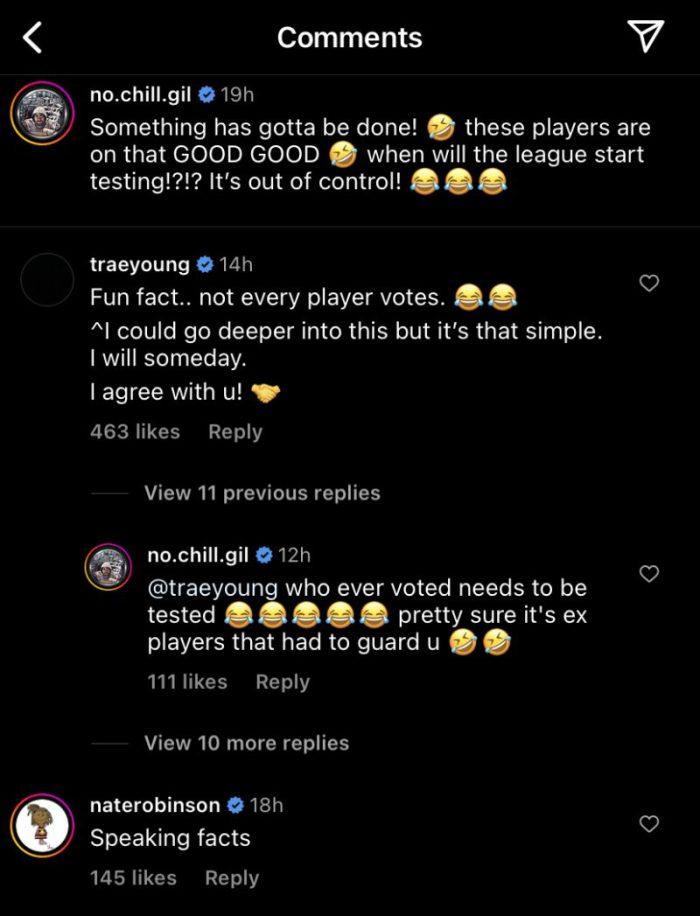 It's interesting that the players who had ballots didn't give Young more votes. After all, the fan and media voting groups had him at fifth and sixth in the East, respectively.
Perhaps the 24-year-old's reputation hurt him in the player voting. Even though he is among the NBA's best at the point guard position, some folks do not seem to think highly of him. On the other hand, maybe some players saw beyond his numbers when voting and didn't think he was deserving of a starting spot in the midseason showcase.
The fifth-year pro is having another impressive season, recording 26.7 points and 10.3 assists per game. His assists mark is the best of his career and ranks second in the league this season. However, he has been somewhat inefficient as a scorer, as he is connecting on just 42.8 percent of shots from the field and 32.4 percent of his shots from beyond the arc.
Furthermore, some folks likely think of his numbers as empty stats because the Hawks are near the bottom of the Eastern Conference postseason picture. At the All-Star break, Atlanta sits at 29-30, good for No. 8 in the conference.
Even after he wasn't named a starter, Young had a chance to make it to this year's All-Star Game as a reserve, but he didn't get the nod.
The University of Oklahoma product missed out on what would have been his third All-Star appearance. He was voted in as a starter in 2020 and 2022.
Young may be extra motivated over the remainder of the season to prove some people wrong.