NBA insider Jake Fischer doesn't believe that Brooklyn Nets star Ben Simmons has any trade value at this point in the 2022-23 season.
Simmons, who was acquired by Brooklyn last season in the deal that sent James Harden to the Philadelphia 76ers, is currently dealing with a knee injury that has kept him out of the lineup for the Nets' last two games.
"I don't think he's got any real trade value," Fischer said. "I was talking to the team who has designs to rebuild Monday night when I was at Barclays Center. And like I asked that question, and I was told pretty point blank like that they would have been interested in him before the season started and 7-8 games later now that interest has dissipated."
Simmons hasn't had a strong start to the 2022-23 season. He's averaging just 6.2 points, 6.5 rebounds and 7.3 assists per game while shooting 44.1 percent from the field. The three-time All-Star has not been aggressive on the offensive end, taking just 5.7 shots per game.
When healthy, Simmons is a solid playmaker and elite defender, but his scoring woes this season have been hard to ignore. Part of it could be rust, as Simmons sat out all of last season, but teams don't appear to be willing to take a chance on finding out at this stage in the season.
The Nets are certainly hoping that Simmons will get back to his All-Star self, as the team expects him to be its third star alongside Kyrie Irving and Kevin Durant.
Unfortunately, just about everything that could go wrong in Brooklyn has this season. The team suspended Irving on Thursday for the way he handled himself after posting a documentary on social media containing antisemitic beliefs.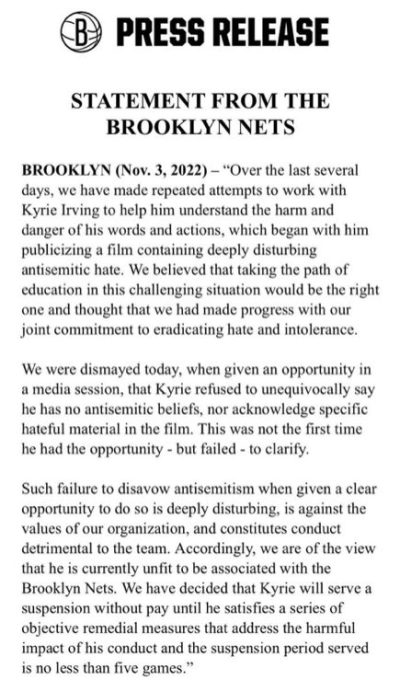 Following the announcement of the suspension, Irving issued an apology on Instagram.
View this post on Instagram
With Irving's future in question and Simmons dealing with a knee injury, a lot of pressure is going to be on Durant to keep the team in the playoff conversation in the Eastern Conference.
Since Simmons' trade value appears to be at an all-time low, the Nets are stuck in a tough spot. They either have to let him play through his struggles in hopes that he can become a solid player again, or they have to cut their losses and move him for way less than they gave up to acquire him.
It's a tough decision to make, but luckily, Brooklyn has some time to sort things out with the 2022-23 season just getting underway last month.