Brooklyn Nets owner Joe Tsai is "completely done" with guard Kyrie Irving, according to ESPN's Stephen A. Smith.
"From what I've been told, Joe Tsai is completely done with [Kyrie Irving]."

— Stephen A Smith#NBATwitter pic.twitter.com/owzdbvnX04

— 𝙏𝙖𝙡𝙠𝙞𝙣' 𝙉𝘽𝘼 (@_Talkin_NBA) November 4, 2022
The Nets suspended Irving for at least five games on Thursday for the way he handled himself after he shared a documentary containing anti-Semitic views.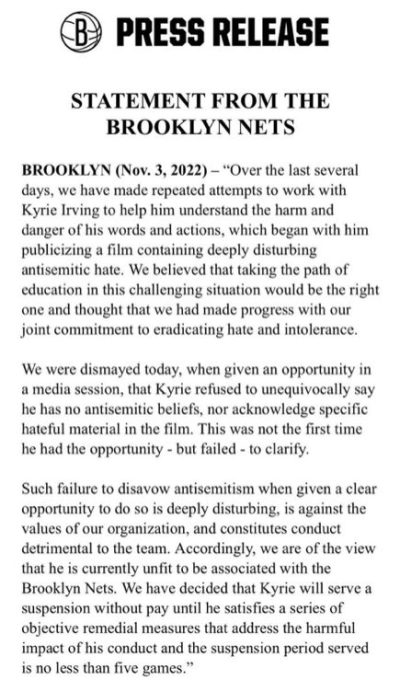 This came after Tsai had spoken out against Irving on Twitter for promoting the documentary.
I'm disappointed that Kyrie appears to support a film based on a book full of anti-semitic disinformation. I want to sit down and make sure he understands this is hurtful to all of us, and as a man of faith, it is wrong to promote hate based on race, ethnicity or religion.

— Joe Tsai (@joetsai1999) October 29, 2022
Following the announcement of the suspension, Irving took to Instagram to apologize for his actions.
View this post on Instagram
The apology came after he seemed to stand by his decision to post the documentary while speaking to the press.
This isn't the first time in the last two seasons that Irving has caused issues for the Nets. Last season, he was limited to just 29 games because of his refusal to get vaccinated against COVID-19.
The seven-time All-Star was ineligible to play in home games for the Nets for most of the 2021-22 season due to New York City's vaccine mandate. Once that was lifted, he finally became a full-time player for the Nets.
This past offseason, the Nets and Irving did not agree to a long-term deal, leading to the guard opting into his player option for the 2022-23 season. He will be an unrestricted free agent after this season, and it's hard to see him having a future in Brooklyn after all that has happened.
Tsai and the Nets may also keep Irving suspended for an extended period of time this season, since there are specific terms that the team needs him to meet before he returns to play. It's a nightmare scenario for Brooklyn, which has gotten off to a slow start this season, going 2-6 through its first eight games.
Irving is averaging 26.9 points, 5.1 rebounds and 5.1 assists per game this season while shooting 45.3 percent from the field and 28.0 percent from beyond the arc. There is no doubting his talent on the court, but he has become a major distraction for the team off the court.
With the Nets already struggling even with Irving in the lineup, it's possible the team tries to move on from the 2016 NBA champion this season. For now, the Nets will lean heavily on Kevin Durant to carry the team with Irving suspended.