It looks like the talented yet polarizing forward Miles Bridges might soon be back on an NBA floor.
The NBA announced on Friday that Bridges, who last played for the Charlotte Hornets in the 2021-22 season, has been suspended for 30 games as a result of the domestic violence incident between him and the mother of his children.
The incident took place during the 2022 offseason. In November of 2022, Bridges submitted a plea of no contest to the charge of felony domestic violence. As a result of that plea deal, other charges related to the incident were dropped.
Bridges was out of the league for the entire 2022-23 regular season. As a result of that, the NBA has considered 20 games of his 30-game suspension already served. So, Bridges could feasibly be back on the floor after the first couple weeks of games in the 2023-24 season.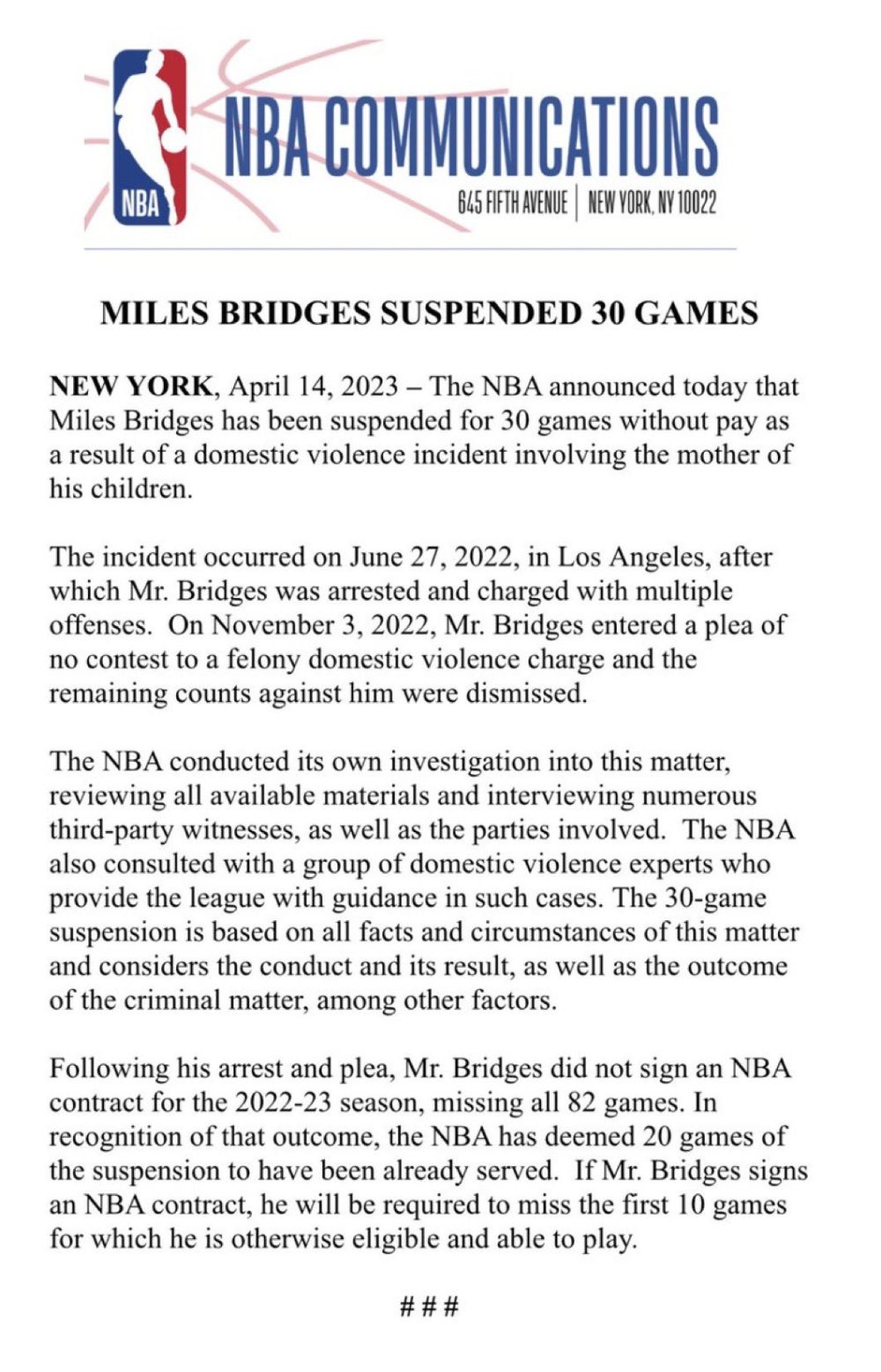 Surely, there will be a lot of fans who are pretty upset by this relatively small suspension. Others will likely argue that Bridges has faced his crimes through the justice system and deserves to be given another chance to continue his career and prove that he has learned from his past mistakes.
While his punishment from the league is now official, there is perhaps still a mystery of whether or not there will be teams interested in his services. It's possible that teams feel that the bad press that would surely result from signing him would not be worth it.
However, if fans have learned anything from professional sports in the past, it is that teams are willing to forgive a player's transgressions off the court or field as long as he or she is able to produce on it.
Bridges fits that bill, and his most recent campaign in the NBA was definitely his best. In the 2021-22 NBA season, he started 80 games for the Hornets and finished with averages of 20.2 points, 7.0 rebounds and 3.8 assists per game. All of those numbers marked career-high marks for the Michigan State University product.
Given his troubled past, it will be interesting what kind of money he demands on the market. It wouldn't be a shock if a number of teams offered him incentive-laden prove-it deals. However, it is also possible that a team will decide to swing big and offer him a lucrative multiyear deal.
Only time will tell.