Though famed sports analyst Stephen A. Smith is often the one making the headlines with his strong opinion and personality, he is now the center of a new story for a different reason.
According to a recent report, ESPN NBA broadcaster Mark Jones was caught liking a video on Twitter that deemed Smith as a "coon," a racial epithet that is often used by Black people to describe other Black individuals who they see as being overly supportive of white individuals.
The story began when Smith himself defended polarizing Dallas Cowboys owner Jerry Jones. Jerry Jones was recently outed for being present at North Little Rock High School on Sep. 9, 1957 when the school was trying to desegregate its student body.
The incident took place during the same month that the Little Rock Nine attempted to integrate Little Rock Central High School. At the time, white people were known to try to intimidate Black students trying to integrate.
Despite Jerry Jones' presence at the event all those years ago, Smith came to his defense.
I'm very fond of Jerry Jones and he doesn't deserve what just happened to him! pic.twitter.com/XgegwXI5Vh

— Stephen A Smith (@stephenasmith) November 25, 2022
"I'm pretty pissed off," Smith began. "I'm pissed off but not for reasons that people would think. I am very, very fond of Jerry Jones, and I'm not hiding that from anybody. Is his record perfect? No, but I'm pissed off because he doesn't deserve what just happened. He doesn't deserve it. One report, our report, said he was 14 years old. Another report said he was 15 years old. At minimum, that's 65 years ago."
He argued that too much time has passed for Jerry Jones to be held accountable.
"You're going to bring up a photo of him when he was 14, 15 years old? 65 or 66 years ago? This is where cancel culture gets into the mix," Smith continued. "You're making an attempt to eradicate him, what he stands for and all he has done."
In a response, a Twitter user named Bishop Talbert Swan posted the video below.
https://t.co/VU8MAxa085 pic.twitter.com/6VM2eAZtbU

— Bishop Talbert Swan (@TalbertSwan) November 28, 2022
It is that video that Mark Jones was caught liking on the popular social media app. By early Tuesday morning, Mark Jones had unliked the post, but it had already been captured and shared across social media.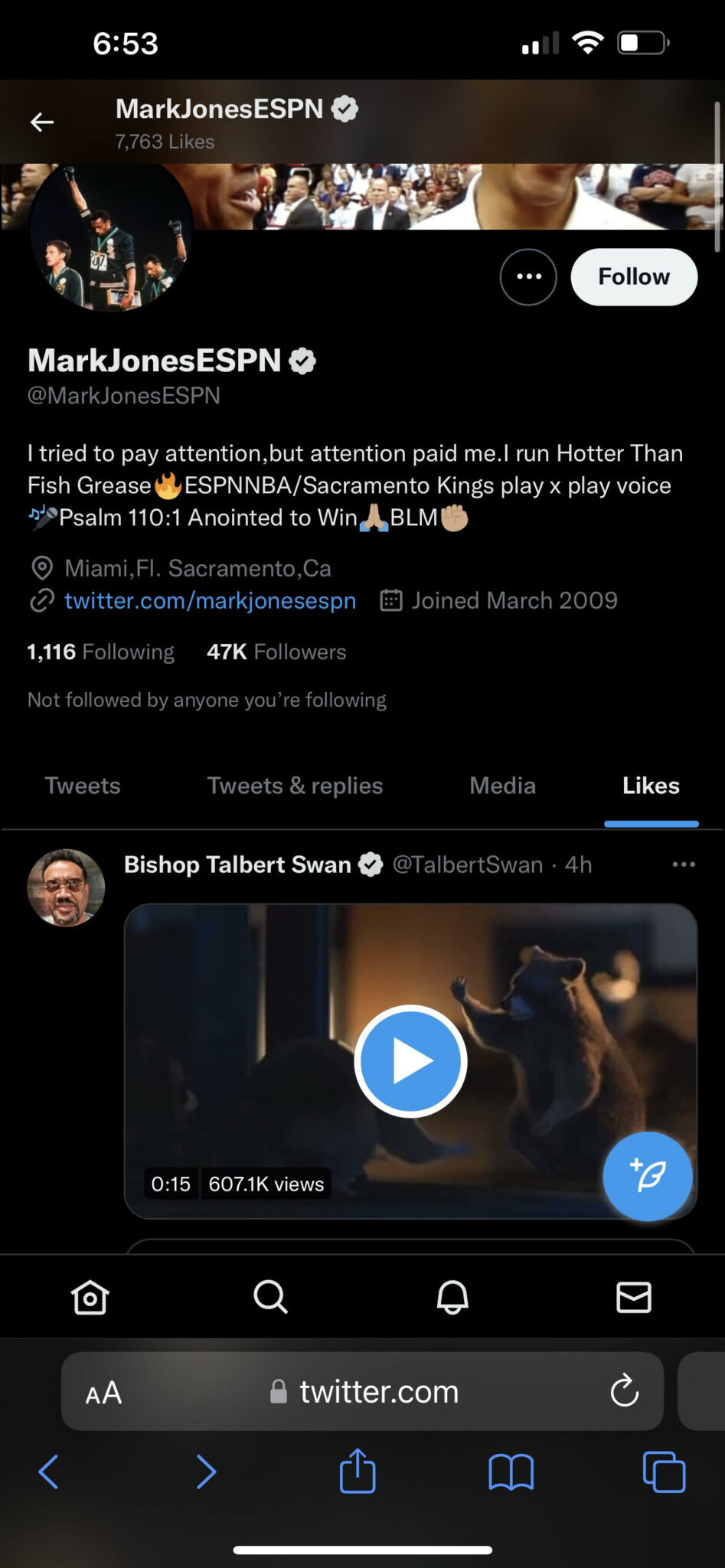 Mark Jones is not only employed by ESPN, but is also in his third season as the play-by-play lead commentator for the Sacramento Kings. Interestingly, he was first brought on in 2020 after former commentator Grant Napear resigned from his former position after accusations of racial insensitivity.
When it comes to Mark Jones, it will be interesting to see if the 10-9 Kings decide to make a change in the commentator booth.
Thus far, ESPN has declined to comment on the situation.