Golden State Warriors free agent forward Draymond Green shared a post on Instagram showing that he agrees that he's worth $100 million in free agency this offseason.
Green reposted a quote from ESPN analyst Stephen A. Smith, who believes that the star forward is "easily" worth $100 million.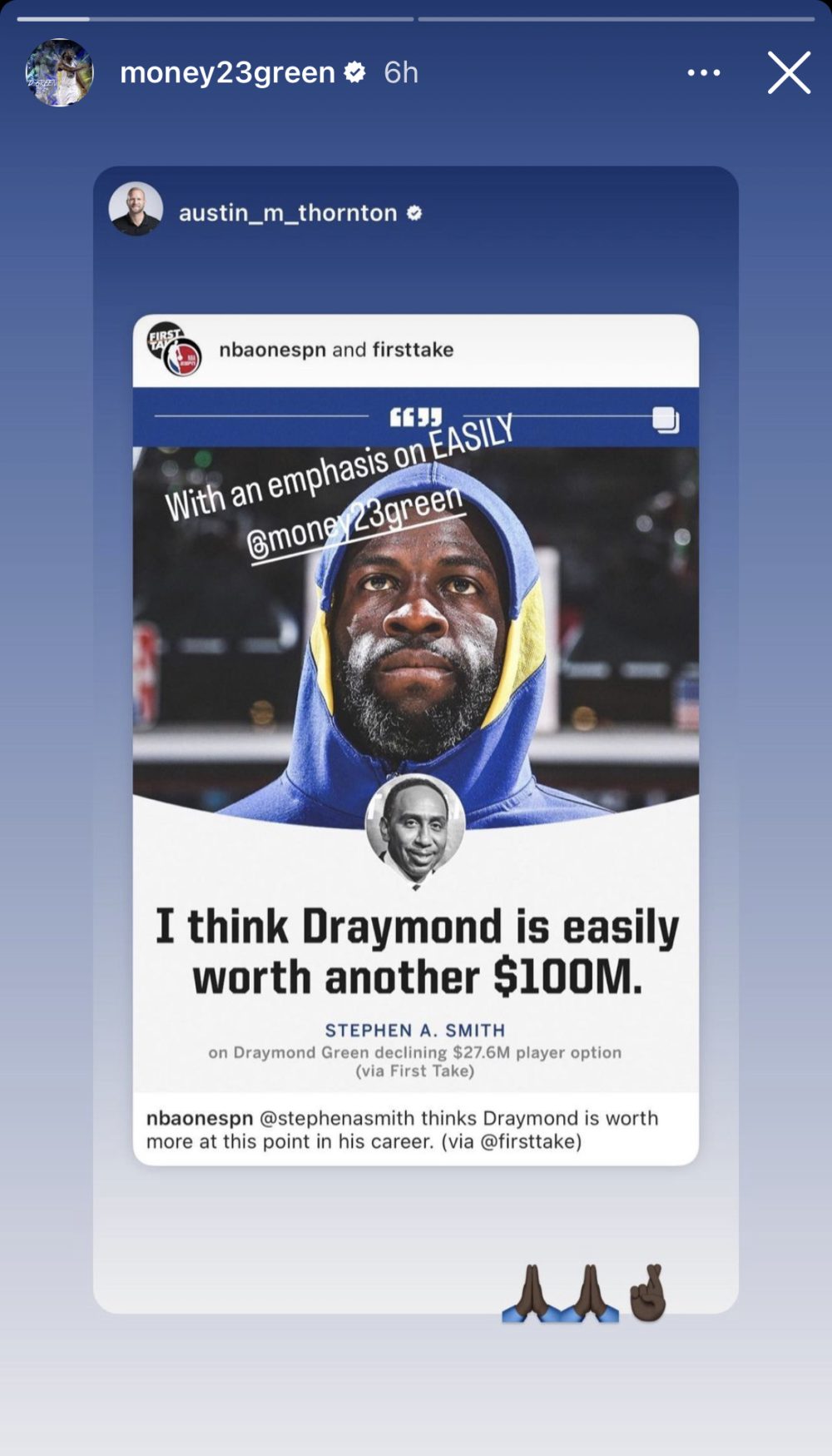 Green declined his player option with the Warriors for the 2023-24 season, but he could still return to the team. It appears he may have opted out to receive a long-term deal north of the $100 million mark.
The Warriors have had a ton of success with Green on the team, winning four NBA titles and making the Finals six times during his tenure in Golden State.
A second-round pick in the 2012 NBA Draft, Green has made quite the name for himself, winning Defensive Player of the Year honors once in his NBA career and making the All-Star Game four times.
With Stephen Curry, Klay Thompson and Green, the Warriors have one of the more proven and dangerous cores in the NBA. However, the team will need to pay up to keep Green with the franchise for the long haul.
The Warriors did give themselves some long-term financial flexibility by trading away guard Jordan Poole on Thursday to the Washington Wizards in exchange for veteran Chris Paul.
Poole signed a four-year extension with Golden State last offseason that kicks in during the 2023-24 season. After the 2023-24 season, Paul's deal is non-guaranteed, which means the Warriors could save tons of money by waiving him.
That should open up an avenue for Green to sign a long-term contract since there is less future money on the books for Golden State.
During the 2022-23 season, Green averaged 8.5 points, 7.2 rebounds, 6.8 assists and 1.0 steal per game for Golden State while shooting 52.7 percent from the field and 30.5 percent from beyond the arc. He still is one of the best defensive players in the league and a great passer.
It's hard to imagine Green wearing a different uniform next season, but it's clear that the four-time All-Star wants the Warriors to pay him what he believes he's worth this offseason.