The Golden State Warriors and Oklahoma City Thunder played a classic game on Friday night in their first game of the new NBA In-Season Tournament, and the league has confirmed that the correct judgment was made on the last-second winning basket scored by Stephen Curry.
STEPHEN CURRY GAME WINNER 🤯 pic.twitter.com/tebIGKP5PS

— Ahn Fire Digital (@AhnFireDigital) November 4, 2023
The Warriors superstar made a layup with less than one second to go that was originally waved off for offensive basket interference by teammate Draymond Green. After review, that call was overturned and the Warriors walked away with a 141-139 victory.
With the game tied, Curry started his drive from beyond the 3-point line and put the ball high off the glass. Green came across the lane from the opposite side and jumped looking for a possible putback.
In the Last Two Minute Report released by the league on Saturday, the ruling was deemed correct because Green did not touch the ball, and though he did contact the rim, it did not satisfy the conditions for basket interference.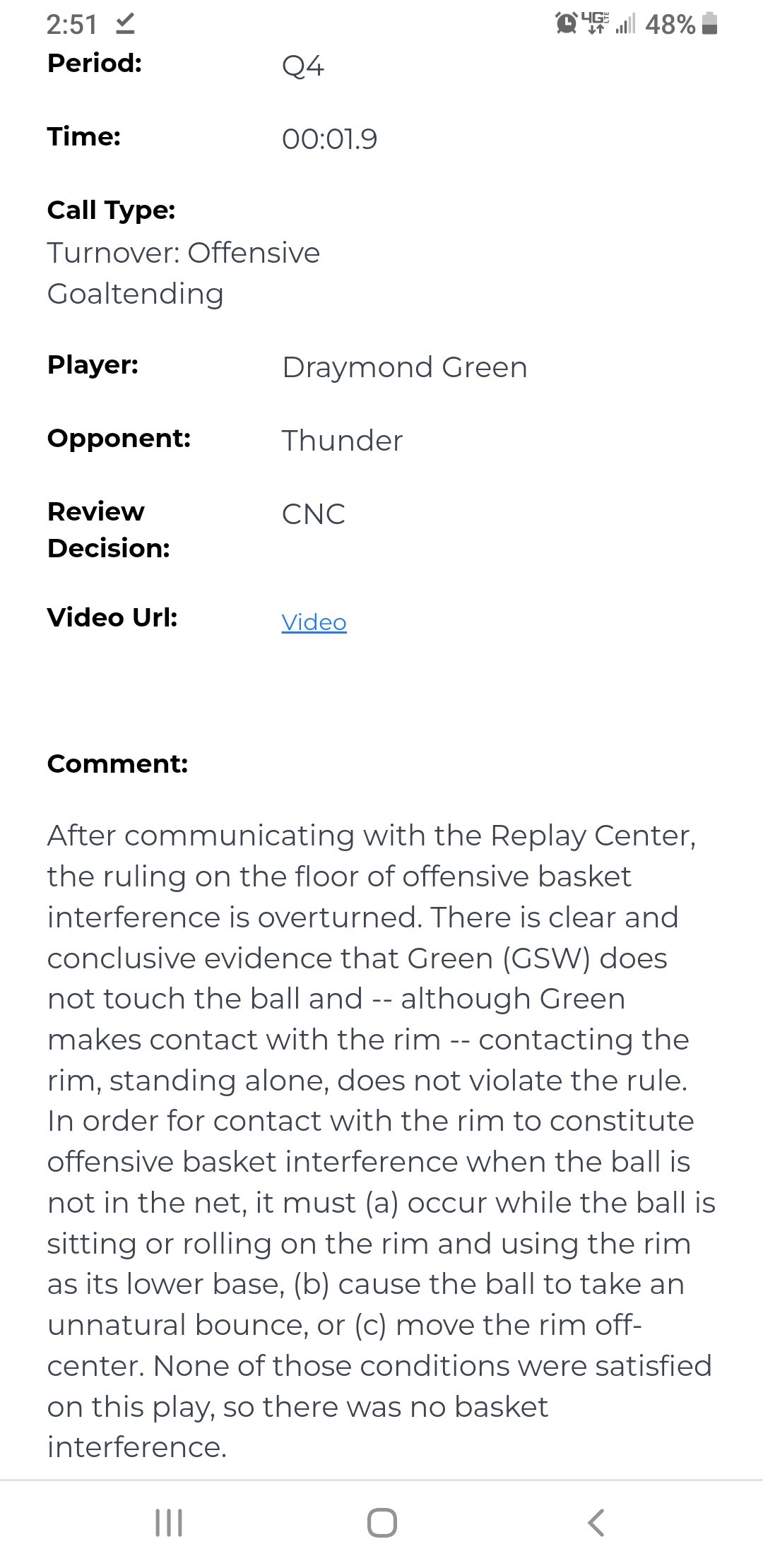 Curry finished with 30 points in helping the Warriors win for the fifth time in six games this season. The Thunder, who led the game during the fourth quarter, fell to 3-3.
It was one of the highlights of the first night of the inaugural In-Season Tournament, which resumes next Friday and will continue throughout the early part of the season.
Group play ends on Nov. 28, followed by quarterfinals and semifinals leading to the championship game between two teams on Dec. 9. The tournament includes financial incentives for both players and coaches based on how far they advance.
The Warriors are looking like they can contend for the tournament title based on their fast start to the 2023-24 NBA season. With the departure of Jordan Poole and the addition of Chris Paul this offseason, Golden State might be a formidable contender for another NBA championship as well.
If the In-Season Tournament can continue to provide the kind of excitement the Warriors and Thunder provided on its opening night, it likely will create just the kind of interest the NBA hopes it will.