The NBA recently issued punishments following Tuesday night's scuffle between the Golden State Warriors and Minnesota Timberwolves, and Minnesota's Rudy Gobert was slapped on the wrist with a $25,000 fine.
Los Angeles Clippers veteran P.J. Tucker couldn't contain his laughter after learning of Gobert's punishment.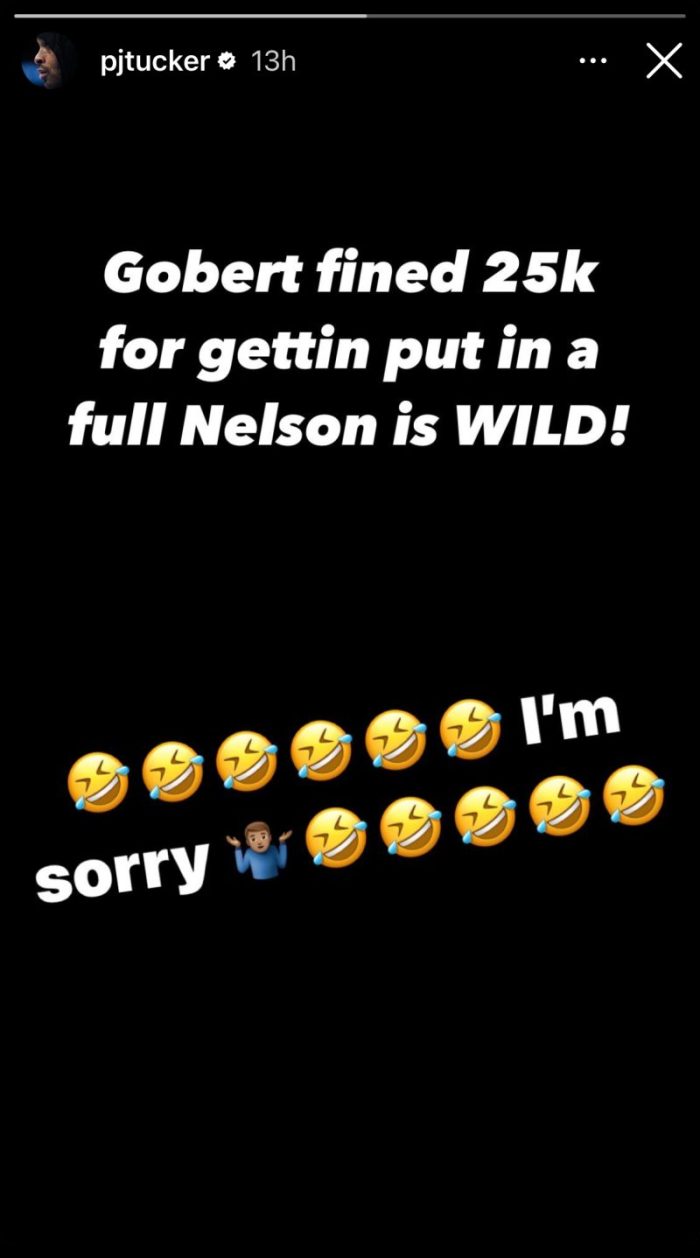 Warriors star Draymond Green put Gobert in a chokehold during the scuffle, which led to Green being ejected and ultimately suspended five games.
A HUGE SCUFFLE DURING THE WARRIORS-TIMBERWOLVES GAME 🍿 pic.twitter.com/01UcMOczs2

— Ahn Fire Digital (@AhnFireDigital) November 15, 2023
Gobert was ruled to be a "peacemaker" in the scuffle by the officiating crew and wasn't ejected. However, after having time to review the matter, the league evidently decided that the Timberwolves star did enough to earn a fine.
The fine likely won't impact Gobert's lifestyle too much, as the veteran is making $41 million this season alone, but he may be frustrated by the principle of the punishment.
Gobert is in his second season with the Timberwolves, and he's hoping that it will lead to more collective success for Minnesota than the 2022-23 campaign did.
The Timberwolves finished the 2022-23 regular season with a 42-40 record and had to navigate their way through the play-in tournament just to earn a playoff bid. In the first round of the playoffs, they saw their season quickly come to an end at the hands of the Denver Nuggets.
The good news for Minnesota is that the team has shown signs of life in the early portion of the 2023-24 campaign. The Wolves are 8-3 through 11 games and hold the third-best record in the Western Conference.
For his part, Gobert is averaging a double-double of 11.2 points and 12.4 rebounds per game. He's also making his impact felt on the defensive end per usual and is averaging 2.3 blocks per contest.
A night like the one the Warriors and Wolves recently had can often serve as a turning point for a team — for better or worse. Minnesota lost to the Phoenix Suns on Wednesday in the team's first game since the night of the scuffle but will have an opportunity to get back on track against the New Orleans Pelicans on Saturday.
Gobert will do his best to make his presence felt in that one, even if his pockets are $25,000 lighter.