Golden State Warriors forward Draymond Green reportedly wanted an X-ray on his ankle following the team's Game 2 loss to the Sacramento Kings on Monday night.
Green was experiencing soreness in his ankle and reportedly believes that he injured it during his incident with Kings big man Domantas Sabonis.
Warriors star Draymond Green asked for an X-ray on his right ankle after the Game 2 loss to the host Kings after feeling soreness, source confirmed to @andscape @espn. Source adds Green believes the injury came when Kings star Domantas Sabonis grabbed his ankle before the stomp.

— Marc J. Spears (@MarcJSpears) April 18, 2023
Sabonis grabbed Green's leg in the fourth quarter of Game 2, leading to the Warriors forward stepping on Sabonis' chest. The play resulted in Sabonis receiving a technical foul and Green being ejected from the game.
Draymond Green ejected after stomping on Domantas Sabonis' chest pic.twitter.com/kukzFRLq7s

— Ahn Fire Digital (@AhnFireDigital) April 18, 2023
Prior to being ejected, Green had scored eight points on 3-of-6 shooting, adding four rebounds, five assists and one steal.
It was an unfortunate play all around, as both players seemingly went out of their ways to make non-basketball moves.
Sabonis had X-rays performed on his sternum, but the results reportedly came back negative, a good sign for him playing in Game 3 of this series. He remained in Monday's game following the incident.
X-rays returned negative on Sabonis' sternum and it appears he's avoided injury, source tells ESPN. He will undergo additional testing on Tuesday as a precaution. https://t.co/7gmm172EG8

— Adrian Wojnarowski (@wojespn) April 18, 2023
Green was clearly unhappy with the play, taking to Instagram after the game to air his frustration with Sabonis' actions.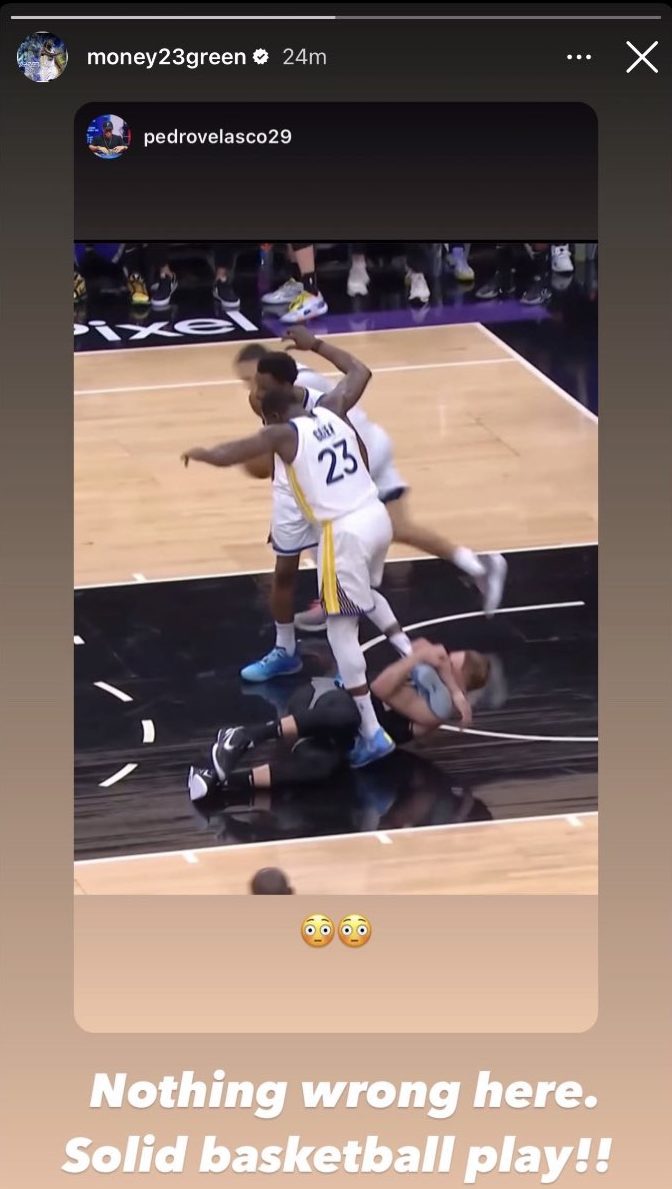 The four-time All-Star was ejected with the Warriors trailing by four points in Game 2, and the team withered down the stretch to fall to an 0-2 hole to the Kings in the series.
The team is certainly hoping that Green didn't suffer an injury that would knock him out of the lineup, as the Warriors need all hands on deck in Games 3 and 4 at Chase Center to try to even the series at home.
Given Green's reputation as a physical player, it wasn't really surprising to see him in a scuffle, but both he and Sabonis made non-basketball plays that simply don't belong in the game. Sabonis was wrong for grabbing Green's leg, which could certainly have injured him, but Green did not need to stomp on Sabonis' chest as a result.
The defending champion Warriors find themselves down 2-0 in a playoff series for the first time in Stephen Curry's career.
Green's health will be a key factor in whether or not Golden State can come back and win this series.
The Kings and Warriors will face off again on Thursday, April 20 in Game 3.