Los Angeles Clippers superfan Darrell Bailey, who's better known as Clipper Darrell, was punched by a security guard at Crypto.com Arena last month in an alarming incident.
The incident happened while Clipper Darrell was attending a game between the Clippers and Boston Celtics on Dec. 12.
On Saturday, he released a statement about the incident, per Marc J. Spears.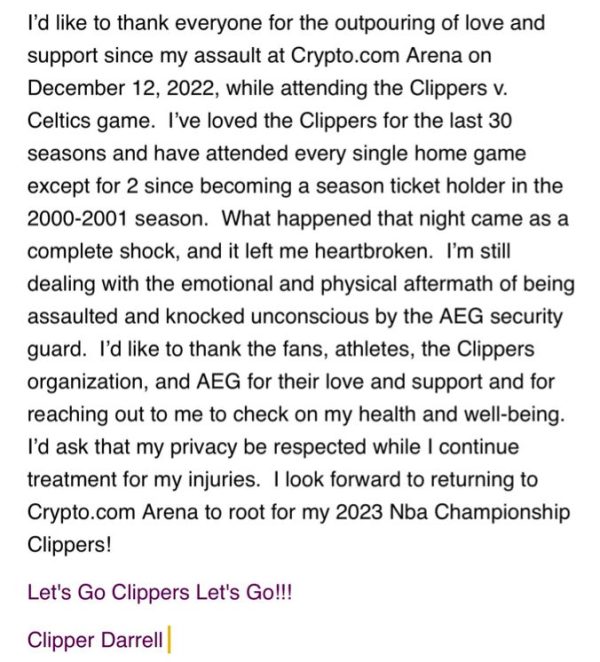 After the incident occurred last month, Crypto.com Arena president Lee Zeidman said in a statement to TMZ Sports that the security guard was fired and arrested.
"Clipper Darrell became involved in a verbal and then physical altercation," Zeidman said. "After receiving immediate medical attention, Darell was transported to a nearby hospital for further evaluation and treatment.

"An investigation of the incident was launched which determined the employee's behavior to be a direct violation of our training and approved responses resulting in the immediate termination and arrest of the employee by the LAPD."
According to Zeidman, the altercation started when security was attempting to direct Clipper Darrell (and other fans) to the exits.
Hopefully, the Clippers superfan can return to Crypto.com Arena soon and watch his team in person again. He clearly has high hopes for the Clippers this season, and it's hard to blame him.
As long as Kawhi Leonard and Paul George are healthy going into the playoffs, the Clippers figure to be an extremely tough out in the Western Conference. The team has a very impressive supporting cast around its superstars and looks like a very complete team on paper.
Clipper Darrell, of course, has not yet witnessed a Clippers championship, as the organization is still looking for its first NBA title. L.A.'s deepest run ever came in the 2020-21 season, when the team reached the Western Conference Finals before losing to the Phoenix Suns in six games.
Without a doubt, Clipper Darrell and the rest of the Clippers fan base are hoping for a different outcome this season. The squad currently holds a 21-20 record, good for seventh in the West. L.A. — which is in the midst of a five-game losing streak — will be back in action on Sunday for a game against the Atlanta Hawks.