The mother of New York Knicks star forward Julius Randle fired back at Los Angeles Lakers legend and "NBA on TNT" analyst Shaquille O'Neal after he called the player "Randolph" prior to Thursday night's game between the Knicks and Boston Celtics.
The Knicks took a lot of flak from the entire TNT crew, but they ended up beating the Celtics in overtime on Thursday night.
TNT analysts again filleting the Knicks:

"They haven't been relevant since Patrick Ewing." — Charles Barkley

Shaq called Julius Randle "Randolph."

"Whatever his name is."

— Stefan Bondy (@SBondyNYDN) January 27, 2023
Randle's mother took to Instagram to fire back at the disrespect towards her son.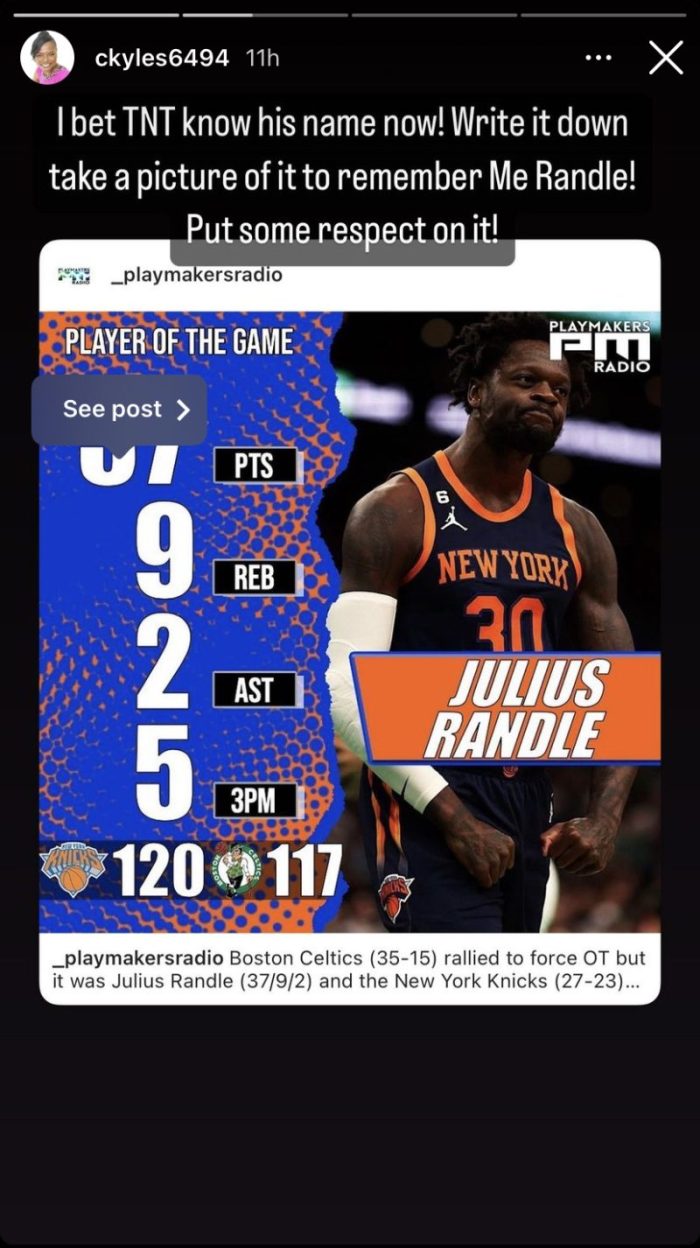 Randle, a one-time All-Star, had an absolutely huge game against Boston, scoring 37 points to lead the Knicks. He made 13 of his 25 attempts from the field, five 3-pointers and added nine rebounds and two assists.
It was a huge road win for the Knicks, who are now 27-23 on the season and in the No. 7 spot in the Eastern Conference.
Randle is a major reason why, having one of the best seasons of his NBA career. The Knicks star is averaging 24.8 points, 10.9 rebounds and 4.0 assists per game while shooting 46.1 percent from the field and 34.6 percent from beyond the arc.
A former Laker, Randle could be in line for yet another All-Star Game appearance this season.
It's surprising to see O'Neal disrespect a former Laker, especially since Randle has played so well this season.
The Knicks have struggled over the couple decades to sustain any success, but this year's team looks poised to at least make the play-in tournament in the Eastern Conference.
Randle and Jalen Brunson (who also had a big game with 29 points on Thursday) have led the Knicks to some quality wins this season, including wins this week over the Cleveland Cavaliers and Boston.
This has been a huge bounce-back season for Randle. He made an All-NBA team in the 2020-21 season, but he saw his numbers drop off across the board last season.
He appears to have found his form from that All-NBA campaign this season, and the Knicks are thriving because of it. After beating Boston, who has the best record in the NBA at this point in the season, Randle and the Knicks are certainly hoping to get more respect from the rest of the league going forward.