Philadelphia 76ers president of basketball operations Daryl Morey recently logged some interesting activity on social media surrounding the saga with Sixers guard James Harden.
Morey seemingly liked a tweet from The Ringer's Kevin O'Connor suggesting that Philly should hold out for a solid package for Harden rather than rushing to trade him. O'Connor complimented how well the Sixers played in their season opener against the Milwaukee Bucks.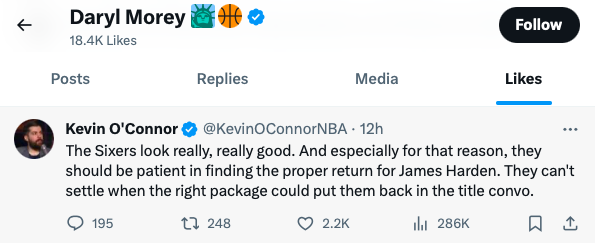 The Sixers told Harden to stay home ahead of their season opener against the Bucks after he missed practices leading up to the game.
Harden reportedly attempted to join the Sixers at the airport for their road trip, but he was instead denied entry to the team plane by a security official.
In the offseason, Harden ripped Morey – calling him a liar – and the star guard said that he wouldn't play for him again. However, the Sixers have not traded Harden, which means his only chance to play – for now – is with Philly.
During the 2022-23 season, the 10-time All-Star averaged 21.0 points, 6.1 rebounds and 10.7 assists per game while shooting 44.1 percent from the field and 38.5 percent from beyond the arc.
There's no doubt that Harden could help the Sixers this season, but if the two sides can't work together, then Morey may have to move on from the former league MVP.
It appears that Morey, based on his social media likes, won't be forced into dealing Harden for a package that he doesn't want.
Until the Sixers decide to bring Harden back into the fold, Tyrese Maxey, De'Anthony Melton and Patrick Beverley will likely remain the top guards in the team's rotation.
Maxey put on a show against the Bucks, scoring 31 points on 10-of-22 shooting while adding four rebounds, eight assists and two steals.
Philly ended up losing by one on the road to the Bucks, but it was a positive sign that the team was able to compete against a title contender like Milwaukee without Harden in the lineup.
The Sixers' next game is on Saturday, Oct. 28 against the Toronto Raptors. That game is the first of a back-to-back, as the Sixers will play at home on Sunday against the Portland Trail Blazers.