Rapper and entrepreneur Kayne West has been in the news a lot lately, but not for the right reasons.
His latest quip: accusing Phoenix Suns point guard Chris Paul of having an affair with reality TV personality Kim Kardashian.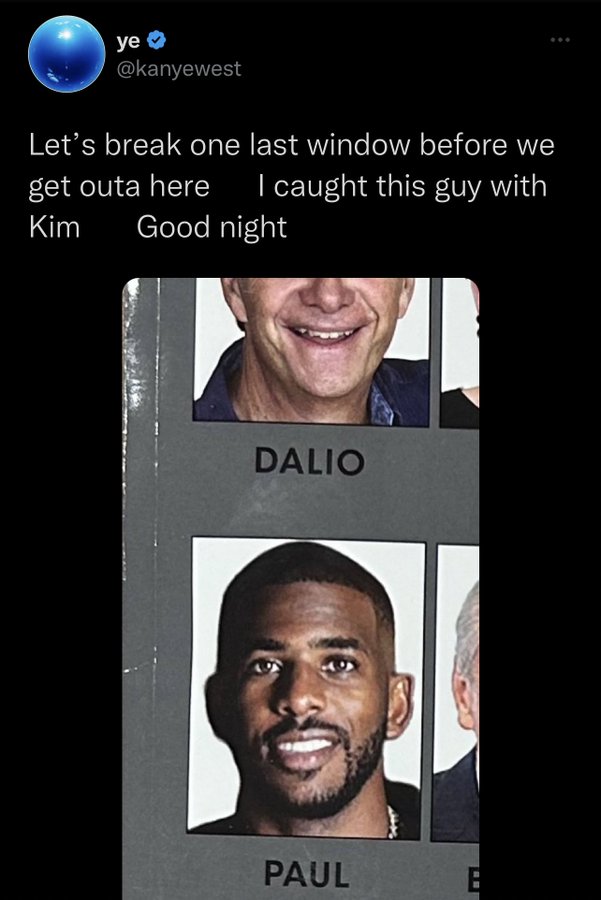 West has been in hot water for a tweet that contained blatantly anti-Semitic material. He also recently claimed that a Jewish doctor had "misdiagnosed" him with a mental illness, and that he refused to take the medication prescribed to him.
Kanye West continues his anti-Jewish tirade, discussing how a Jewish doctor intentionally misdiagnosed him & could have killed him.

He then rants again about Jews controlling entertainment and media, insinuating that the number of Jews in this profession is problematic. pic.twitter.com/N2qyoNe8fM

— Ari Ingel (@OGAride) October 30, 2022
On a recent episode of "The Alex Jones Show," West took things to an even more insane level by praising Adolf Hitler and even denying the occurrence of the Holocaust.
Alex Jones desperately tries to get Kanye West to clarify that he doesn't actually love Hitler … but nope.

Ye: "There's a lot of things that I love about Hitler. A lot of things." pic.twitter.com/QI87RNcx8A

— Right Wing Watch (@RightWingWatch) December 1, 2022
Kanye West: Hitler had a really good outfit and was a good architect and he didnt kill 6 million Jews

Alex Jones: I think Hitler did target and kill some people

Kanye: I think Obama killed Palestinians and Obama wasn't the first black president. He was another Jewish president pic.twitter.com/GW9VPTrZrs

— Christcuck Pastors (@Christcucks2) December 1, 2022
As a result of his recent anti-Semitic comments, Adidas and Gap have dropped their partnerships with him.
About a decade ago, Kardashian married Kris Humphries, a former NBA forward. Then in 2012, she began a relationship with West. Shortly afterward, she divorced Humphries and later married West, whom she filed for divorce from last year.
Kardashian's sister Khloe was also in a high-profile relationship with former Los Angeles Lakers forward Lamar Odom. The two were married from 2009 until 2016.
Paul has been married to Jada Crawley, whom he met in college, since 2011.
The future Hall of Famer has been out with a heel injury for the past few weeks. His offensive numbers are down significantly this season, as he's averaging a career-low 9.5 points per game while shooting just 36.8 percent from the field and 27.3 percent from 3-point range.
However, he is also putting up 9.4 assists per contest, which is on par with his career average, and he is still clearly the engine of the Suns' offense.
On the other hand, they have been winning without him. Phoenix is currently on a six-game winning streak, and it has the best record in the Western Conference at 15-6.
Devin Booker has been leading the way for the team by averaging 29.0 points per game this season. He is coming off a virtuoso performance in which he had 51 points on 20-of-25 shooting versus the Chicago Bulls.