Late last month, NBA fans were shocked to learn that the San Antonio Spurs had waived the No. 12 overall pick in the 2021 NBA Draft, Joshua Primo.
Immediately after the news of Primo's release, many expected to hear about some kind of allegations against the young man. That turned out to be the case, as Primo was quickly accused of "multiple alleged incidents of him exposing himself to women," per ESPN.
Tony Buzbee says Josh Primo exposed his penis to Dr. Hillary Cauthen in almost the very first session in December of 2021, per @MattRoy_TV

Primo allegedly exposed himself again in Vegas this past July and again in Minnesota the weekend before his release. pic.twitter.com/RkRQORRrdb

— NBACentral (@TheNBACentral) November 3, 2022
Now, it seems as though Primo's camp is actually denying the allegations and instead saying that it was Primo who was being taken advantage of by an older medical professional in the Spurs organization.
"But, sources close to Primo are insistent he never intentionally exposed his privates…and if anything was visible at any time, it was strictly a wardrobe malfunction resulting from laying down on a couch in basketball shorts," TMZ reported.

"It's been documented…J.P. had a rough childhood, and we're told the psychologist was helping him work through some personal issues…so he'd almost always go to her office in shorts before or after practice or games.

"The accuser's attorney has identified his client as Dr. Hillary Cauthen…a performance therapist with the organization.

"Our sources say Primo was shocked by the allegations…and many in his circle feel he's a young guy who's being taken advantage of by a medical professional twice his age."
Cauthen is apparently suing the Spurs and Primo over the alleged incidents.
The lawsuit, obtained by @TheAthletic @Stadium, alleges that Cauthen informed the Spurs organization of Primo's indecent exposures in January 2022 and her repeated reports went "ignored." More to come on this developing story. https://t.co/zCBA1Vs20a

— Shams Charania (@ShamsCharania) November 3, 2022
Primo's attorney later released a strong statement in response to the allegations.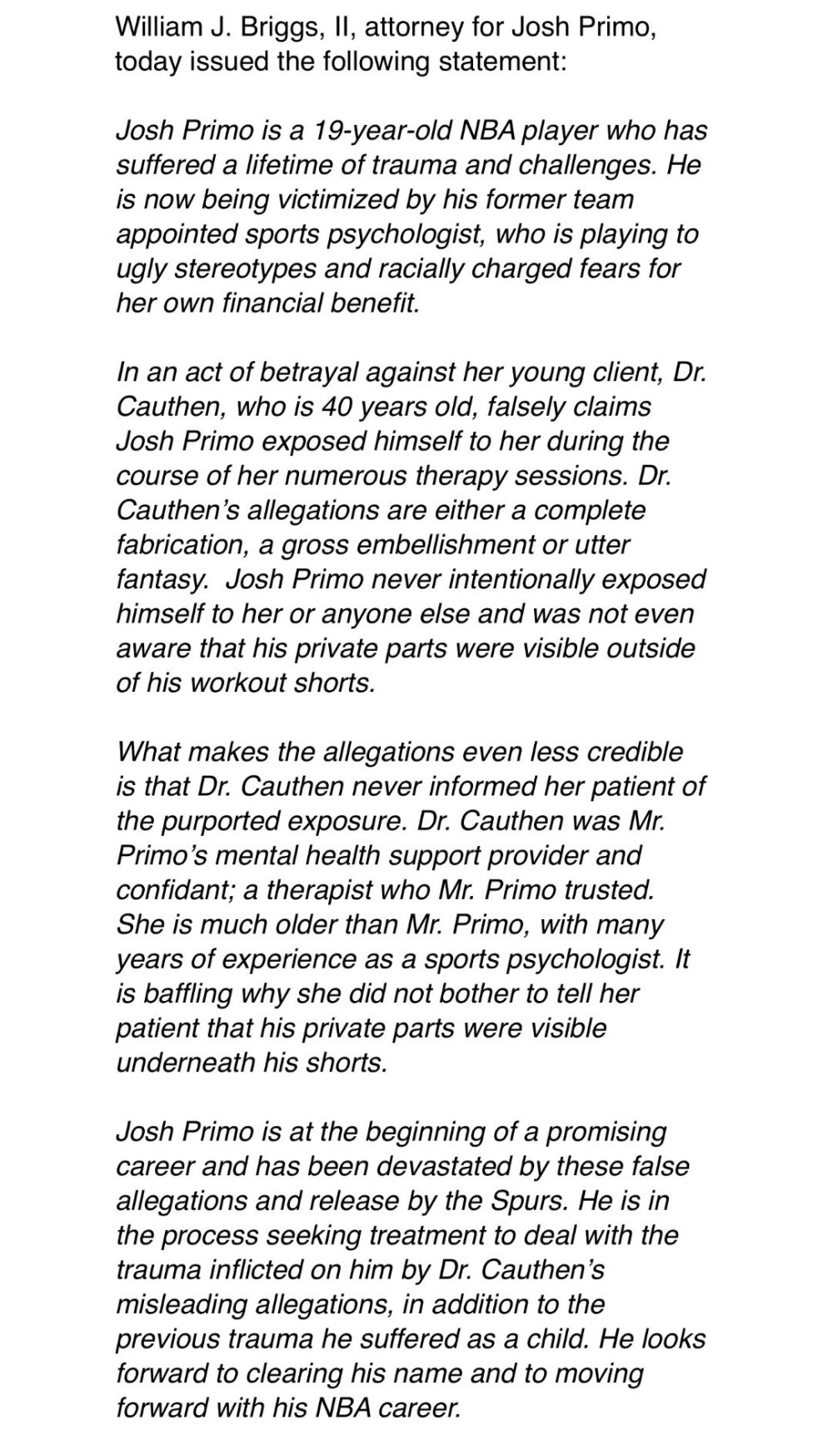 It is interesting to note that shortly after news of Primo being waived broke, he released a statement that seemed to accept some of the blame.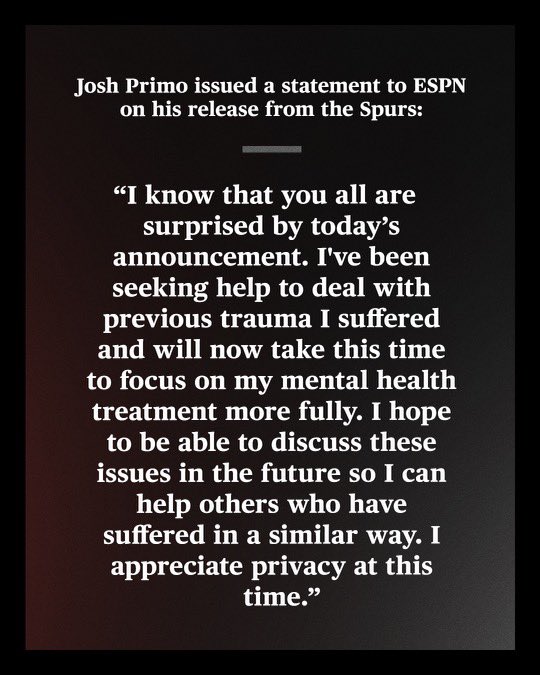 This new report is a result of either more information coming to light or a shift in strategy by Primo's team. Either way, it is an interesting wrinkle to an odd and rather unfortunate story.
Prior to his release, Primo was seen as an incredibly young prospect with loads of potential. He's still just 19 years old, and in his rookie season, he averaged 5.8 points, 2.3 rebounds and 1.6 assists per game.
Without a doubt, Primo and his camp are going to try to put these allegations behind them as quickly as possible so that he can continue his NBA career elsewhere. Earlier this week, a troll account claimed that Primo had been signed by the Brooklyn Nets, though the report has since been debunked.
Primo's accuser has hired lawyer Tony Buzbee. Buzbee gained fame recently after representing many of the women who came forward to accuse NFL star quarterback Deshaun Watson of sexual misconduct.
Hopefully, the truth, whatever it may be, comes to light in the matter.