On Friday, the Utah Jazz got eliminated from the 2021 NBA Playoffs by the Los Angeles Clippers, 131-119.
Although Jazz star Donovan Mitchell had a huge series, Fox Sports 1 commentator Shannon Sharpe criticized him on social media, and Mitchell had a surprising reaction.
Let's get the elephant in the rm out of the way. Donavon Mitchell and Jazz, had a 3-1 lead on Nuggets last yr and blew it, up 2-0, leading by 25 in gm 6 and lose. Spida, wants to be considered a superstar that can't happen on his watch.

— shannon sharpe (@ShannonSharpe) June 19, 2021
Can't blow a 25 pt lead https://t.co/knbcCnq9Fy

— shannon sharpe (@ShannonSharpe) June 19, 2021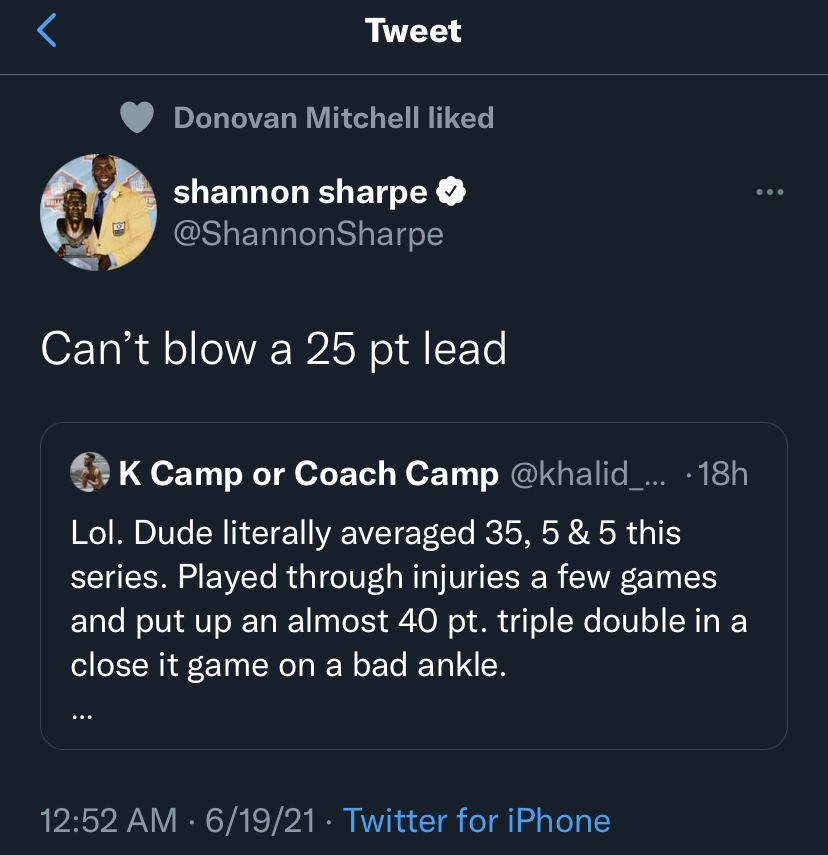 Mitchell blossomed in last year's playoffs, putting up a number of enormous scoring games in the first round against the Denver Nuggets. Unfortunately, it wasn't enough, as Utah blew a 3-1 series lead to Denver.
This year, it looked like the Jazz had a great chance of reaching the NBA Finals, as they finished with the top record in the Western Conference.
Mitchell had another Herculean postseason, but again the Jazz faltered, this time squandering a 2-0 series lead to L.A.
With their Game 6 win, the Clippers earned a spot in the Western Conference Finals for the first time in their existence.
Still, the future appears to be bright for the Jazz, as Mitchell is one of the NBA's brightest young stars.
In fact, Los Angeles Lakers superstar LeBron James compared Mitchell's postseason performance this year to the one Miami Heat great Dwyane Wade had in 2006. That was the year Wade led the Heat to their first NBA championship.