A little more than one year after the NFL punished star receiver Calvin Ridley for betting on games, the league has a new gambling controversy on its hands.
According to a report, the NFL has suspended five players — four from the Detroit Lions and one from the Washington Commanders — for gambling violations.
Detroit's Jameson Williams, Quintez Cephus, Stanley Berryhill and C.J. Moore are involved along with Washington's Shaka Toney.
Moore, Cephus and Toney are all suspended for at least one year. Moore and Cephus have also been released by the Lions.
Four #Lions players, one #Commanders player with major gambling violations. https://t.co/At9dBLvzvL

— Ian Rapoport (@RapSheet) April 21, 2023
Lions released WR Quintez Cephus and S C.J. Moore after the NFL suspended them.

— Adam Schefter (@AdamSchefter) April 21, 2023
The entire situation is certainly a major development for the NFL. As the gambling industry continues to grow, one can only wonder if this is just the tip of the iceberg.
It's worth noting that a league review found no evidence of any games being compromised. That's certainly a relief for the NFL, as a situation like that would cast major concerns upon the legitimacy of the league's product.
NFL insider Ian Rapoport offered some more details about the situation.
Difference between the length in gambling suspensions:

– The 3 suspended indefinitely gambled on NFL games.

– The 2 suspended 6 games placed bets on college games from their team facility.

(via @RapSheet)pic.twitter.com/z0odq1BQTk

— B/R Gridiron (@brgridiron) April 21, 2023
Williams' representation released a statement after news of his suspension dropped.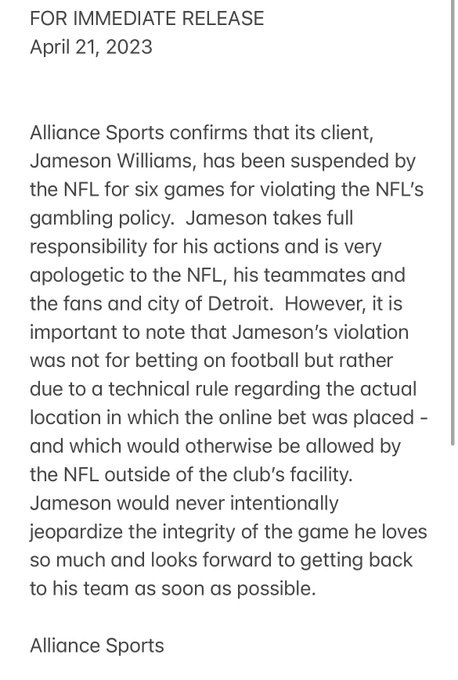 The news certainly hits the Lions hard. The organization had been building some very positive momentum and just earned its first winning season in several years, but having four players mixed up in a situation like this undoubtedly hurts the energy around the franchise.
It appears as though the Lions might have a bit of a big problem inside their organization.
"Separate from these punishments, several Lions staff members in various departments were dismissed last month for violating the gambling policy, a source told ESPN," wrote Eric Woodyard.
The Commanders certainly can't be pleased either, though they're impacted less than the Lions are.
Fans likely wouldn't be surprised to see the NFL add some measures to prevent situations like this from happening again in the future.
Optically, a gambling controversy is a major mess for the league, and the NFL may need to take action in order to stop a trend from forming.
With the 2023 NFL Draft set to begin in less than a week, it's a big time of year for the league. The NFL would surely love to keep the focus on the draft, which could be why it decided to drop the news of the suspensions on a Friday as the weekly news cycle starts to slow down.