The NFL draft process often provides a dream come true for top prospects. Unfortunately, the process is turning out to be more a nightmare for top defensive prospect Jalen Carter.
There is now a warrant out for his arrest stemming from a January incident in which University of Georgia player Devin Willock and staff member Chandler LeCroy died.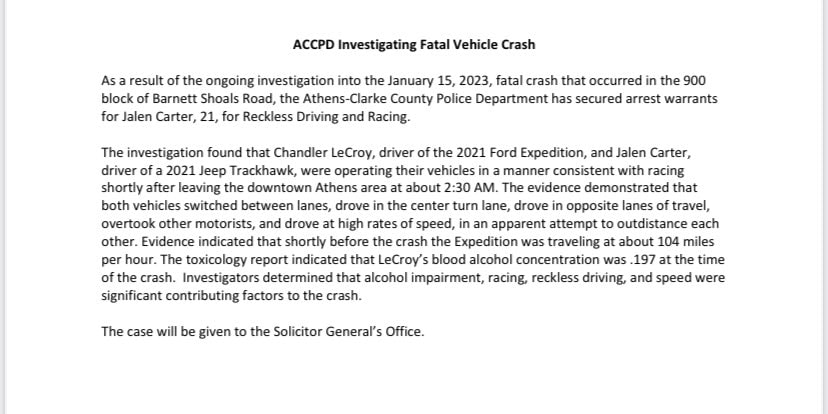 Initially, it was believed that Carter didn't have any involvement with the crash. However, as the investigation has proceeded, it looks like his story — and the level of his potential involvement in the deadly crash — has shifted.
"At first, Jalen Carter told the police he was nearly a mile away when a University of Georgia teammate and a football staff member died in a car crash," Alan Judd and Dylan Jackson of the Atlanta Journal-Constitution wrote.

"Later, Carter said he had been following the car when it wrecked, close enough to see its taillights.

"And, at one point, he acknowledged he was alongside the other car, whose speedometer stuck on impact at 83 mph — double the speed limit.

"Carter, a defensive star for Georgia who is projected as a top pick in this year's NFL draft, left the crash scene, apparently before the police or emergency medical workers arrived. When he returned an hour and a half later, he gave shifting accounts of the wreck as an Athens police officer questioned him about whether he had been racing the car that crashed, according to documents reviewed by The Atlanta Journal-Constitution."
It is both a tragic and scary situation, and hopefully the truth regarding what took place and what Carter's involvement was will be revealed.
At worst, it appears as though Carter may have been involved in an illegal street race that turned fatal. It is unclear if the deaths of LeCroy and Willock can be pegged directly on Carter, but that seems rather unlikely.
Still, illegal street racing certainly comes with penalties. If convicted and found guilty, Carter would likely be looking at some type of severe punishment.
It will be interesting to see how much this ongoing police investigation impacts his draft stock.
During his three seasons at Georgia, Carter was a force to be reckoned with on the defensive line. He racked up 83 total tackles, including 18.5 tackles for loss and six sacks. He also had four passes defended and two forced fumbles.
Despite all that production, scouts are certainly going to be digging a bit deeper into his emotional maturity and past as the draft quickly approaches.