Phoenix Suns star point guard Chris Paul and his wife Jada Crawley met in high school after being introduced to each other by a mutual friend.
They didn't start dating until they were both at Wake Forest University and later got married in 2011 in their home state of North Carolina with their then-toddler son in attendance. They then had a daughter together the following year and have not had any more children since.
View this post on Instagram
The wedding program included a very nice note to their son that stated they never knew it was possible to "love someone as much as we love each other until you came into our lives."
Crawley opened up to Essence about feeling "safe" with Paul, something that's definitely important in any relationship.
"Our relationship has been a progression," she said. "I feel safe with Chris. He's very protective."
She is also a co-founder of the Chris Paul Family Foundation, which "strives to positively impact individuals and families by leveling the playing field" in education, sports and life. The foundation also provides resources that "enrich and strengthen healthy development of strong communities."
Paul is constantly talking about the importance his wife has in his life, telling People recently that she's one of the women that "literally run my life." It's clear that the two have a very strong and loving relationship. Crawley is constantly showing off nice pictures of the two of them on her Instagram.
View this post on Instagram
In August of this year, Paul called Crawley the "rock" of their family.
"For me, I've been traveling with games and stuff my kids' entire lives," Paul told People. "You know what I mean? So, my wife has undoubtedly been the rock. She's been most consistent thing that they've known in their lives so she's their go-to for any and everything."
Naturally, Crawley goes to many Suns games to support Paul and the rest of the team. In an unfortunate situation last season during a playoff game between the Suns and Dallas Mavericks, Crawley was pushed.
"His mother had hands put on her and his wife was pushed, a source familiar with the situation told ESPN, and Paul's kids were there to witness it," reported ESPN's Dave McMenamin.

"Paul's wife was also followed up the aisle when she left her seat, a separate source said."
Of course, the 12-time All-Star was angered by the incident and tweeted his thoughts on what had transpired.
Wanna fine players for saying stuff to the fans but the fans can put they hands on our families….fuck that!!

— Chris Paul (@CP3) May 8, 2022
Sadly, the couple is currently involved in some controversy. Award-winning rapper and producer Kanye West recently accused Paul of having an affair with his former wife Kim Kardashian. West has since been suspended from Twitter.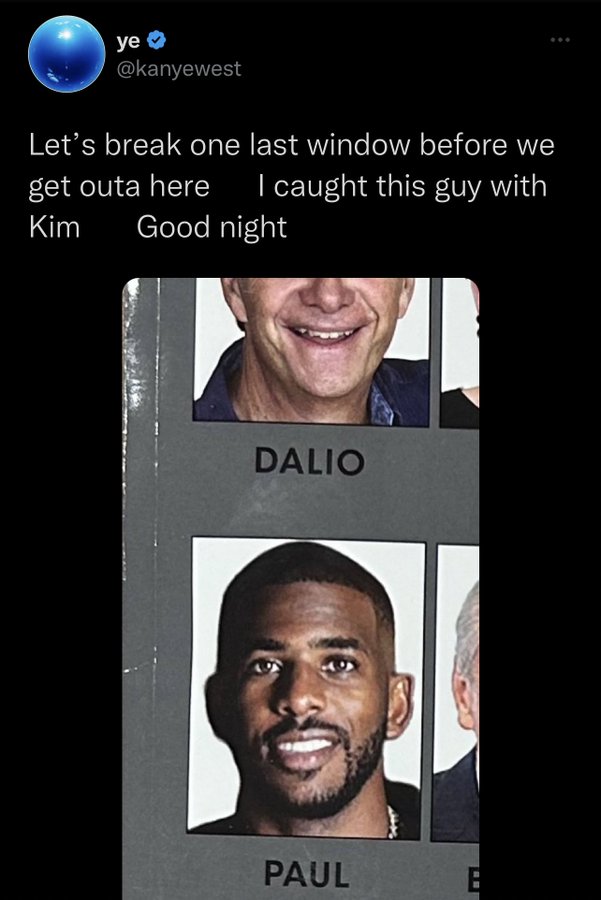 Sources close to the situation have denied the existence of the affair and claim that West, who has been in the news for all the wrong reasons lately, is just attempting to shift the focus away from his recent actions.
Sources close to the situation says Chris Paul did not hook up with Kim Kardashian, per @TMZ_Sports

"The allegation is absolutely false, and just another example of a desperate man trying to shift the focus away from his own wrongdoings." pic.twitter.com/UvL9e2d3Wp

— NBACentral (@TheNBACentral) December 2, 2022
"This is not true and sadly it's an ongoing pattern with Kanye — attacking Kim to redirect everyone's attention after a day of crazy antics where he has said every hateful and offensive thing he can possibly dream of," reported TMZ.
One can only imagine how difficult of a situation it must be for Crawley and Paul right now. Hopefully, they are able to positively move forward in their relationship on the well-being of their family.