This week's controversy surrounding Buffalo Bills wide receiver Stefon Diggs is reportedly not connected to any contract issues or trade demands.
ESPN's Jeremy Fowler reported that Diggs' chemistry issues with Bill quarterback Josh Allen seems to be related to the receiver's absence from the team's minicamp on Tuesday.
"Wednesday I was told was, 'Normal,'" Fowler said. "There wasn't any issue as they broke for camp. Now, my understanding is this is not contractually related. This is not really a trade issue. He's near impossible to trade. He's got a $45 million dead-cap hit on a contract he just did about a year ago. So they're going to move forward with Diggs. They want to work this out. As it was told to me a while back this offseason, Josh Allen and Stefon Diggs needed to have a conversation at some point because of the way things ended at the end of the year. It was just not quite right. It was a little bit off. And it sounds like that has happened behind the scenes at some point this week."
One of the reasons for the controversy is because of the change in tone of Bills head coach Sean McDermott. Tuesday's absence by Diggs resulted in concern from McDermott.
Yikes #Bills HC Sean McDermott confirmed that WR Stefon Diggs is NOT at mandatory minicamp, 'very concerned' 😳 he then refused to get into the details 🎥 @BuffaloBills #BillsMafia pic.twitter.com/xRhHnf7Mtz

— Paul Andrew Esden Jr (@BoyGreen25) June 13, 2023
Diggs himself appeared amused by the controversy, offering a blunt comment about any speculation.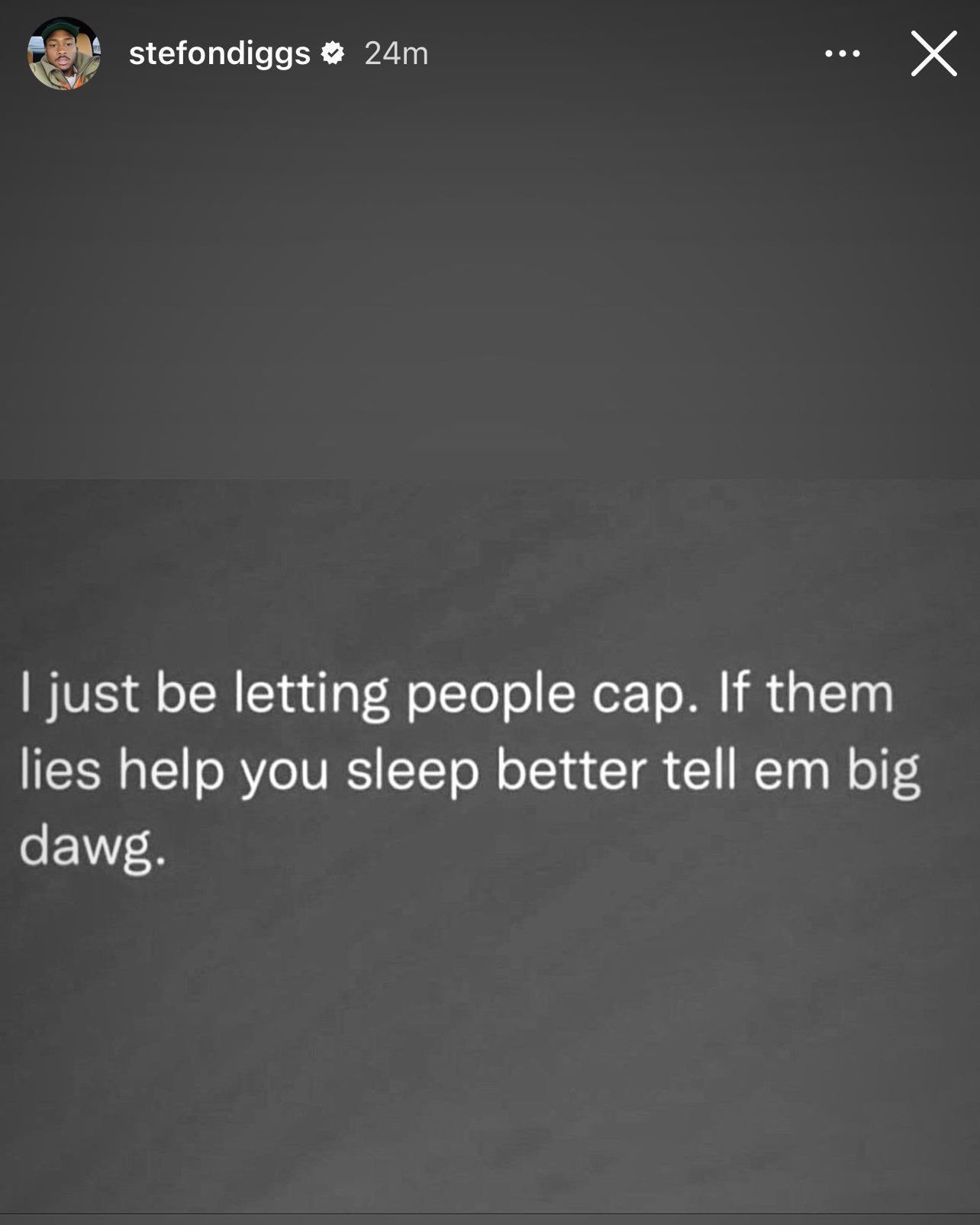 All of that was followed on Wednesday by the coach noting that Diggs' absence had been excused.
The Bills have made strong Super Bowl bids during each of the past three seasons, but have come up short each time. One of the reasons for the team's success has been the vast contributions from Diggs.
After spending his first five seasons with the Minnesota Vikings, Diggs was acquired by the Bills in March 2020. Despite the somewhat steep cost to acquire him, Diggs has been an invaluable part of the team's recent success.
During his first season with the Bills, Diggs led the league in both receptions (127) and receiving yards (1,535), while scoring on eight touchdown receptions.
In the 2021 season, Diggs hauled in 103 receptions for 1,225 yards and 10 scores. Last season, he managed to make 108 catches for 1,429 yards and 11 touchdowns.
After Diggs' first two seasons with the Bills, he was rewarded in April 2022 with a lucrative new four-year contract extension. In March of this year, his contract was restructured to address the team's salary cap issues.
Numbers like that would be virtually impossible to duplicate, even if the Bills were inclined to deal Diggs elsewhere. As noted, any deal efforts by the Bills are virtually impossible because of salary cap ramifications.
The Bills appear to be set to get their 2023 training camp underway late next month and will open their regular season with a Monday night game on Sept. 11 against the New York Jets. Any lingering discussions about the Bills' current situation figures to be drowned out by the Jets' debut of future Hall of Fame quarterback Aaron Rodgers.