The Sacramento Kings' first-round series opener against the Golden State Warriors took an unfortunate turn in the fourth quarter when rapper and Warriors fan E-40, whose legal name is Earl Stevens, was ejected from the contest.
Footage from the incident shows him having a conversation with stadium personnel before being escorted out of the arena.
E40: "tell me when to go"

Security: "ok bet….that way sir…" pic.twitter.com/pMWr2QdKXF

— Pliny tha Hustler (@VictorySlap4700) April 16, 2023
The 55-year-old rapper shared his account of what transpired, alleging that he was a victim of racial bias.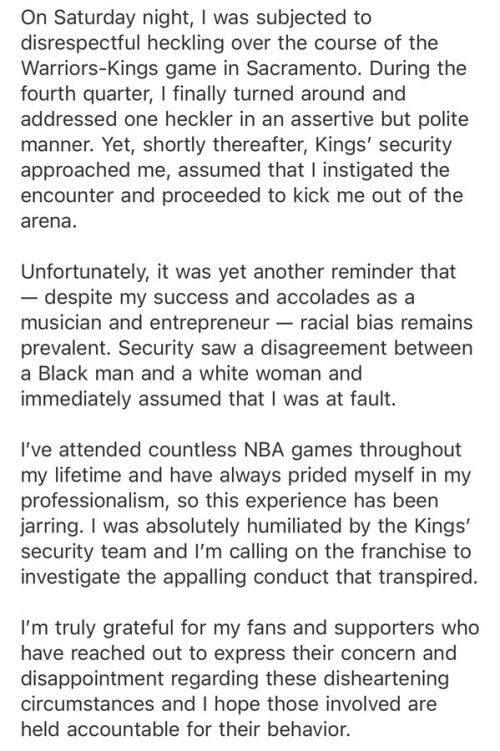 The Kings organization responded by stating that it will conduct an investigation.
Per Sacramento Kings on E-40 incident: "The Sacramento Kings take these claims seriously and are investigating the facts and circumstances regarding the situation, as we do anytime an accusation like this is made."

— Marc J. Spears (@MarcJSpears) April 16, 2023
NBA insider Marc J. Spears offered some more information on the matter.
A source close to E-40 says a warning was never given by Golden 1 security for standing excessively.

— Marc J. Spears (@MarcJSpears) April 16, 2023
Other than the incident involving the Bay Area hip-hop legend, the game between Sacramento and Golden State was as exciting as possible. The matchup saw the West's No. 3 and No. 6 seeds duke it out until the final buzzer.
The Kings eventually came out on top, earning a 126-123 victory, courtesy of clutch shots by De'Aaron Fox, Malik Monk and others. Warriors superstar Stephen Curry did his best to get Golden State the win, but his last-second 3-pointer was off the mark. Unfortunately for E-40, he couldn't watch the thrilling chain of events from his seat.
It remains to be seen if he will be back courtside for Game 2. He'd surely love to be there to cheer on the team he has been backing for a while now.
The Warriors will need all the support they can get, as it's going to be a tough task for them to tie the series at 1-1.
They were one of the worst road teams in the league in the regular season, winning only 11 out of 41 bouts away from home. Furthermore, Golden State's defense has been iffy in the 2022-23 campaign, which is something that the Kings are certainly looking to take advantage of all series long.
Still, it's too early to write off the Warriors. They are the defending champions, after all.
As for the Kings, they are in the playoffs for the first time in 17 years, so they have to learn how to play through their inexperience on the big stage.