Ja Morant's issues with guns have received an additional layer with the revelation of a close friend's deposition involving a 2022 altercation with a teenager at Morant's home near Memphis, Tenn.
According to Lucas Finton of the Memphis Commercial Appeal, Davonte Pack said that Morant does own a Glock 40, but that in a video of Morant on Pack's Instagram account from May, the Memphis Grizzlies player was holding a lighter that looks like a gun. That video in part led to Morant being suspended 25 games by the NBA for conduct detrimental to the league.
Regarding the case from the summer of 2022, the Shelby County District Attorney's Office declined to press charges due to lack of evidence. Pack's deposition is in relation to a lawsuit filed in September, according to Finton. Morant has not been deposed, but could be in the future.
The event occurred with the three men involved in a pickup basketball game at Morant's home. Following an on-court issue, Morant and Pack supposedly each wound up punching the teenager.
It was the beginning of troubling times for the Grizzlies star, who during the subsequent NBA season was suspended eight games for appearing in a video with a firearm in a nightclub in March and was the subject of a welfare check in May after alarming social media posts.
The 23-year-old received the 25-game suspension on June 16 and released a statement afterward.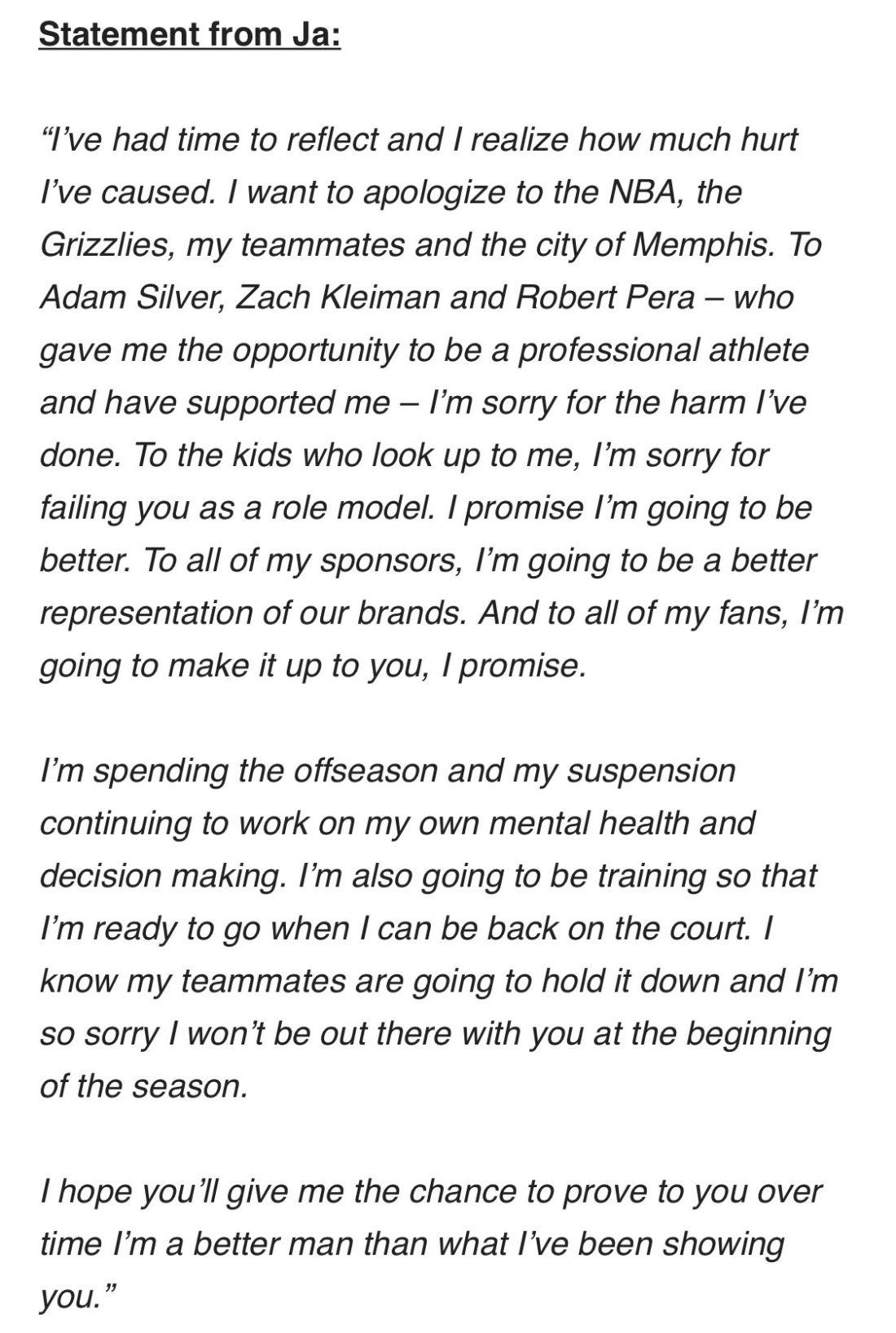 Morant will have to meet certain conditions before he can play again and is not allowed to appear in any public league or team activities. He averaged 26.2 points, 5.9 rebounds and 8.1 assists per game this season, his fourth in the NBA, and the Grizzlies last summer signed him to a five-year contract extension worth at least $193 million.
Memphis was eliminated from the 2023 playoffs in the first round by the Los Angeles Lakers, and after the series, Morant said he needed to be more disciplined in his decision-making and admitted that his off-the-court issues had an impact on the organization.
NBA commissioner Adam Silver, before issuing the latest suspension, said he was worried what Morant might do with too much free time but was hopeful he would get the help he needs.