The 2022-23 season did not end the way that the Golden State Warriors would have liked, as they were knocked out in the second round of the playoffs by the Los Angeles Lakers.
After winning the NBA Finals in the 2021-22 season, Golden State never found that peak form this season. The Warriors struggled mightily on the road, going just 11-30 in the regular season, and they had a ton of inconsistent production from their role players in the playoffs.
One of the team's biggest playoff disappointments was guard Jordan Poole, who just signed a hefty contract extension last offseason. Poole only averaged 21.8 minutes per game in the playoffs due to his ineffectiveness.
During the Warriors' title run in the 2021-22 season, Poole was great in the postseason, averaging 17.0 points per game while shooting 50.8 percent from the field and 39.1 percent from beyond the arc.
He was able to carry the team's offense at times, especially when Stephen Curry was on the bench. After a strong 2022-23 regular season where Poole averaged 20.4 points per game, he simply couldn't produce in the playoffs.
The former first-round pick averaged just 10.3 points per game while shooting a dreadful 34.1 percent from the field and 25.4 percent from deep. That, along with his below average defensive ability, made him virtually unplayable at times for Golden State head coach Steve Kerr.
With Poole's massive four-year, $128 million extension kicking in at the start of the 2023-24 season, Golden State may want to make a trade, especially if it wants to maximize the remainder of Curry's prime.
Curry, arguably the greatest shooter in NBA history, was magnificent in the Warriors' playoff run, scoring 50 points in Game 7 of the first round against the Sacramento Kings. However, it was clear he lacked help from the rest of the roster.
The two-time MVP averaged 30.5 points per game in the playoffs, but no other Warrior averaged more than 18.5 points per game. Klay Thompson (18.5 points per game in the playoffs) shot just 38.8 percent from the field in the postseason.
The Warriors lacked the offensive firepower they had during their last title run, and they didn't have an elite defense to lean on. During the regular season, Golden State was 28th in the league in defensive rating when on the road and 14th overall.
If the team's goal is to win as much as it can with Curry under contract and still playing at an All-NBA level, then the Warriors may want to consider moving Poole for pieces that better fit the roster for playoff basketball.
While Poole can put up gaudy numbers in the regular season, he's a one-dimensional player in the playoffs with his lack of defense. Golden State may be better served by surrounding Curry with two-way players that can excel playing off of him.
That's where this hypothetical trade comes in. For some time, Toronto Raptors forward O.G. Anunoby has been floated in trade talks. He's even been linked to the Warriors.
With Toronto potentially looking to rebuild its roster around Scottie Barnes, here's a trade that makes sense for both the Warriors and Raptors this coming offseason:
Raptors receive: Jordan Poole, Jonathan Kuminga, 2027 protected first-round pick
Warriors receive: O.G. Anunoby, Otto Porter Jr., Thaddeus Young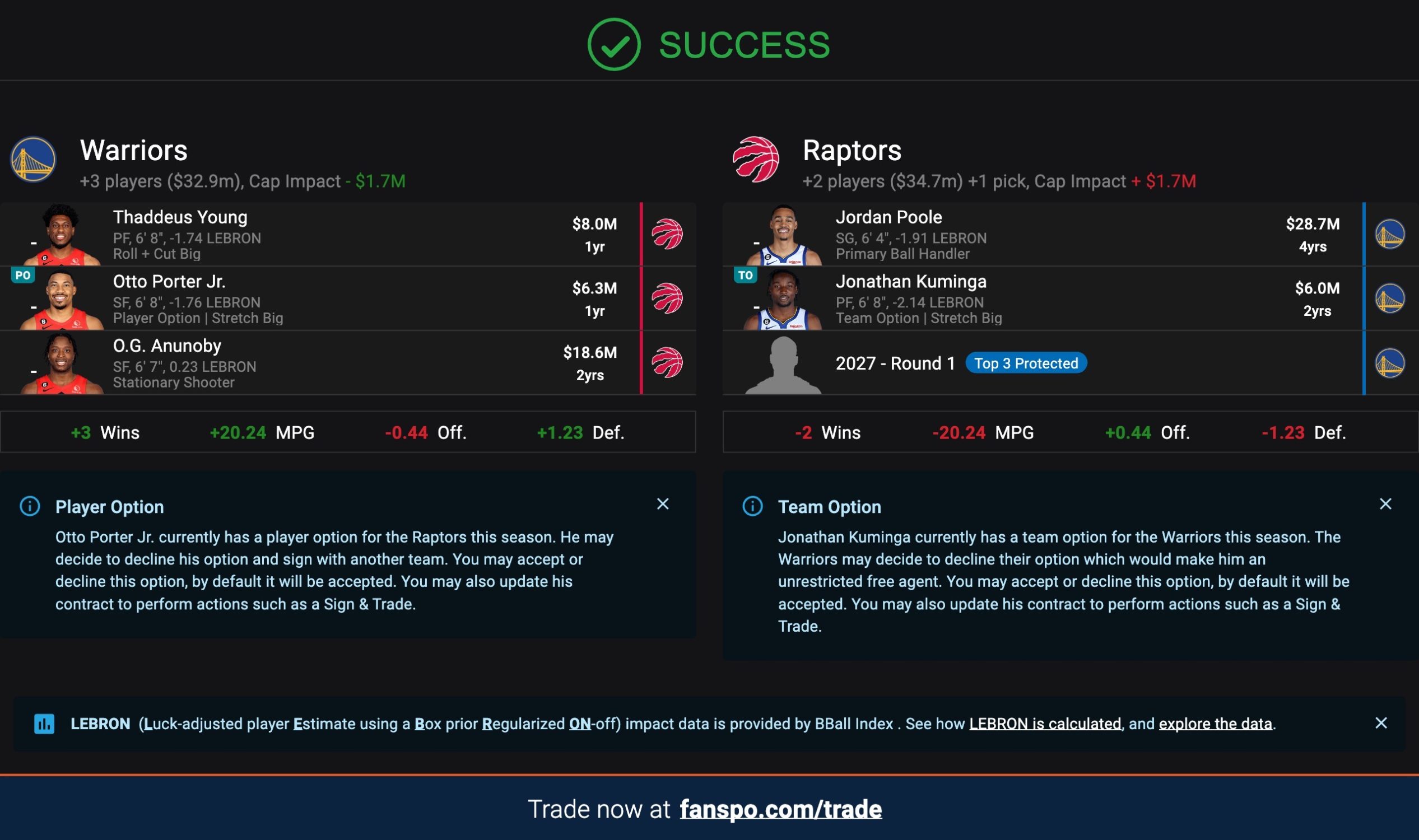 Why the Warriors should make this trade
Trading Poole, especially since he's just one season removed from a great playoff run, is tough.
However, it may be the best move for a Golden State team that is already a perennial luxury tax payer. With the new collective bargaining agreement including another luxury tax apron, which is expected to be $17.5 million over the luxury tax line, Golden State's future team building could be affected. Teams that clear that line will lose the taxpayer mid-level exception, which is a great way to add veteran talent for teams that are over the salary cap.
Poole is one of the team's main ball-handlers behind Curry, so the Warriors would need to replace that, but they'd be getting pieces that would help them contend for a title and shore up their defense.
Anunoby shot 38.7 percent from beyond the arc this season and is one of the game's best two-way players. He and Andrew Wiggins would give Golden State plenty of options to defend some of the best scorers in the Western Conference (Devin Booker, Luka Doncic, LeBron James, Kevin Durant, Kawhi Leonard and Paul George).
Golden State's lack of wing depth was exposed when Wiggins was out of the lineup this season for personal reasons. The Warriors have other wings (Gary Payton II and Moses Moody), but Anunoby is a much better offensive player than both of them.
As for Porter, who recently accepted his player option for the 2023-24 season, he was an integral part of Golden State's title run in the 2021-22 campaign.
Toronto Raptors forward Otto Porter Jr. has picked up his $6.3 million player option for the 2023-24 season, sources tell @TheAthletic @Stadium. Porter played in just eight games this season due to a left foot injury that needed season-ending surgery in January.

— Shams Charania (@ShamsCharania) April 25, 2023
There are concerns about his foot injury that sidelined him for most of the 2022-23 season, but he's another veteran wing that has already thrived in the Warriors' system.
Young would be used as a salary filler, but he's a veteran that Kerr may trust more than a player like Kuminga, who found himself glued to the bench in the playoffs despite being a lottery pick just two years ago.
Ultimately, this is about giving Curry a team that is ready to win. Trying to mix young players alongside veterans is a slippery slope, and it failed for Golden State this season.
Losing Poole might be hard, but if Toronto values him highly, there's even a chance Golden State can avoid trading a first-round pick in this deal.
Why the Raptors should make this trade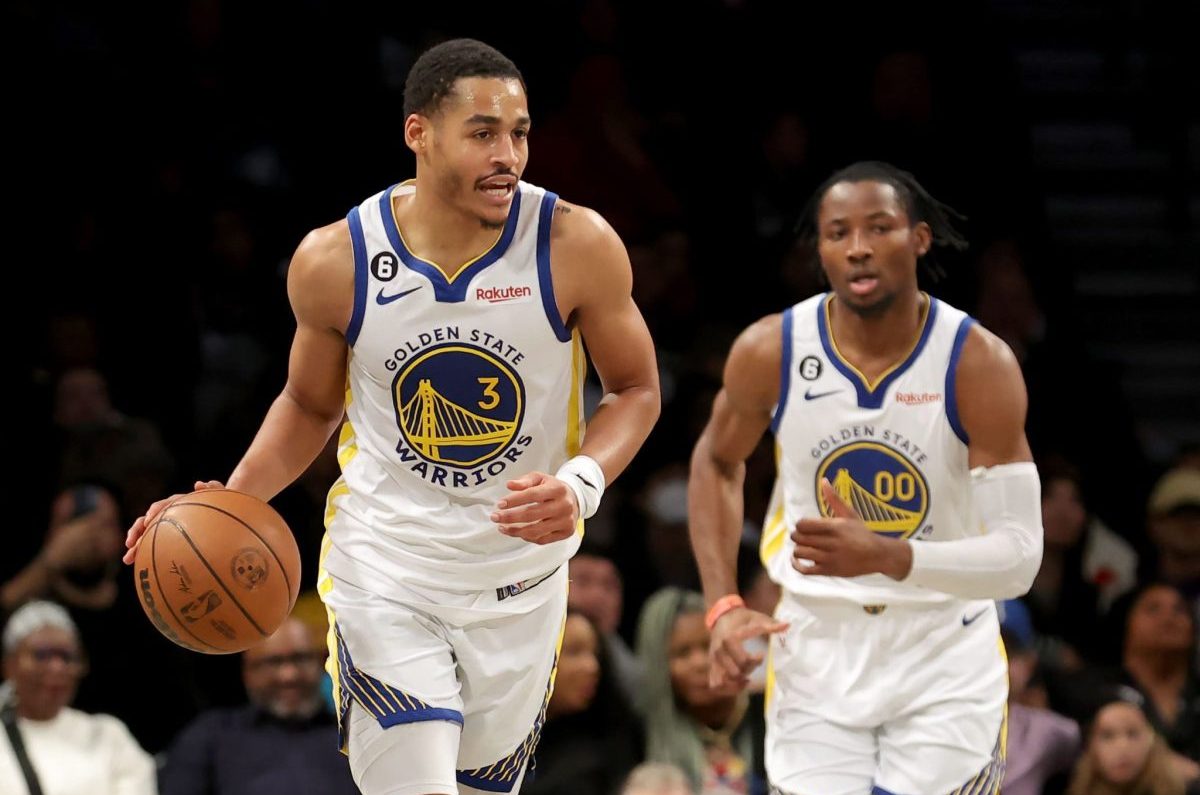 For Toronto, this is all about reshaping the roster around Barnes.
Fred VanVleet and Gary Trent Jr. can become unrestricted free agents this offseason, and there's a chance they won't be back.
Adding Poole and Kuminga gives the Raptors two young players that fit Barnes' timeline, and Poole has a higher ceiling at this point in his career than VanVleet.
Moving off of veterans like Young and Porter should allow the Raptors to get younger. In this deal, they might receive a first-round pick that could be a valuable selection depending on how the Warriors are playing by 2027.
Toronto's asking price for Anunoby was high at the trade deadline in the 2022-23 season, but the forward now has one more season on his contract before he has a player option for the 2024-25 campaign.
Anunoby's production cooled off after a strong start to the season, so the Raptors may want to sell high if they don't view him as a long-term piece in their rotation.
Similar to how the Warriors should be focused on building the best team for Curry, the Raptors should want the best situation for Barnes since they are so highly invested in him.
Adding Poole and Kuminga gives the team a lot of young upside for years to come.