In the wake of Tom Brady's retirement announcement, the Las Vegas Raiders might now look at acquiring Green Bay Packers quarterback Aaron Rodgers during the offseason.
Mike Florio of ProFootballTalk noted the Raiders' potential shift from Brady to Rodgers after the team was under the impression that Brady would be available.
"As one source with knowledge of the dynamics with the Raiders told PFT in the aftermath of Wednesday's news, the Raiders 'absolutely' were counting on Brady being available," Florio wrote. "With Brady out of play, the source predicted that they'll now try to secure the services of Aaron Rodgers."
Toward the end of the 2022 regular season, the Raiders made the decision to move on from veteran quarterback Derek Carr after nine seasons with the team. Carr was selected by the Raiders in the second round of the 2014 NFL Draft.
The Raiders' planned pursuit of Brady undoubtedly was connected to Raiders head coach Josh McDaniels' past association with him on the New England Patriots.
Brady turns 46 in August and showed signs in 2022 that he was getting closer to the end of his legendary career. Despite helping the Tampa Bay Buccaneers reach the postseason, the team was eliminated in a first-round matchup against the Dallas Cowboys.
Of course, there's no guarantee that the Raiders will end up getting Rodgers, who has also established himself as a future Hall of Famer. Right now, Rodgers is still the property of the Packers, though some reports have indicated that the team is ready to move on from the veteran signal-caller.
One person who seemingly believes that Rodgers could land in Sin City is Raiders wide receiver Davante Adams, who played with him in Green Bay.
Mine. https://t.co/1w4jX42A0q

— Davante Adams (@tae15adams) February 2, 2023
Adams also liked a tweet of Rodgers in a Raiders jersey.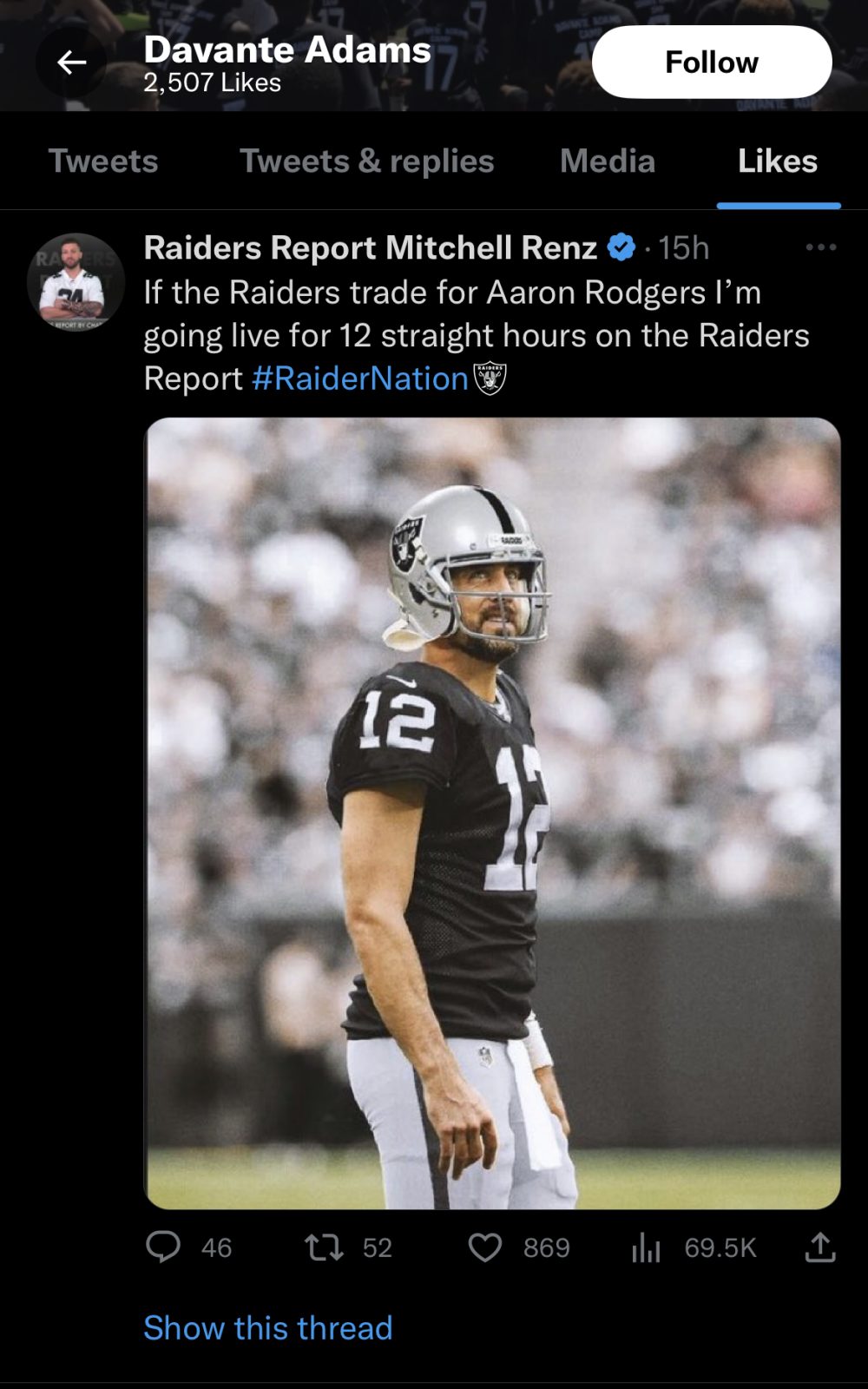 Some speculation exists that if Rodgers ends up leaving the Packers, he's more likely to join the New York Jets. That's because they recently hired Nathaniel Hackett as the team's offensive coordinator.
Hackett served as the Packers' offensive coordinator from 2019 to 2021 before becoming head coach of the Denver Broncos. That tenure ended abruptly after just 15 games, when Hackett was dismissed by the Broncos after compiling a 4-11 record.
Even if the Raiders do happen to add Rodgers to the team's 2023 roster, it's unclear exactly how long he'd remain a viable quarterback. The veteran is 39 years old and will turn 40 in the latter part of the 2023 campaign.
Signing signal-callers at that age tends to be a rarity, though the Raiders might be hoping that a possible pursuit ends up bearing fruit.