The Los Angeles Clippers bowed out of the 2023 NBA Playoffs on Tuesday night after losing to the Phoenix Suns.
Los Angeles was without Kawhi Leonard for the last three games of the series, all of which were Clippers losses, as he suffered a torn meniscus.
Clippers star Kawhi Leonard has been diagnosed with a torn meniscus in his right knee, sources tell @TheAthletic @Stadium. Leonard averaged 35 points in first two games of this postseason vs. Suns before the meniscus injury was revealed and he was shut down by medical staff.

— Shams Charania (@ShamsCharania) April 26, 2023
Many people are frustrated with the fact that Leonard suffered yet another injury that forced him to miss time in the postseason. ESPN's Stephen A. Smith recently said that Clippers owner Steve Ballmer should force Leonard to retire.
View this post on Instagram
Isaiah Thomas, who last played in the league for the Charlotte Hornets, took offense to Smith's comments and came to Leonard's defense.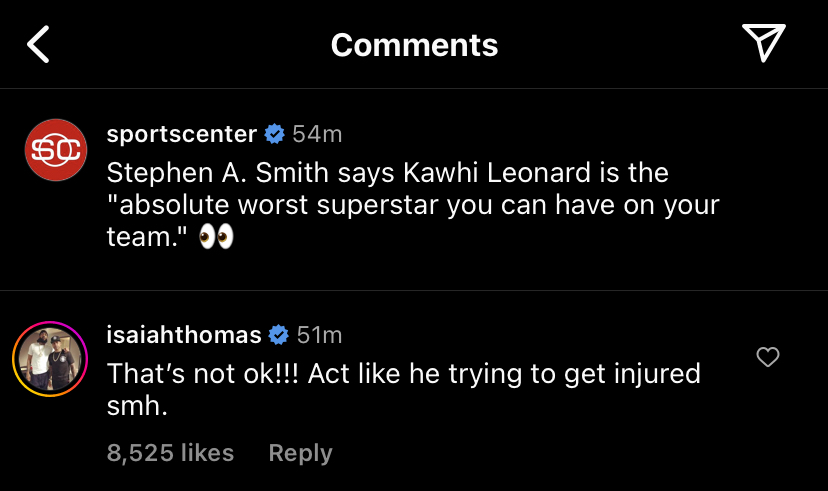 Thomas makes a good point in that Leonard surely isn't trying to get injured. The two-time NBA Finals MVP has just had some terrible luck over the past few years.
Leonard missed the entire 2021-22 season with an ACL injury he suffered in the 2021 playoffs. He came back to play in 52 regular season games during the 2022-23 campaign, finishing with averages of 23.8 points, 6.5 rebounds and 3.9 assists per game on 51.2 percent shooting from the field and 41.6 percent shooting from beyond the arc.
In his two playoff games against the Suns, the California native averaged 34.5 points, 6.5 rebounds and 6.0 assists per game while knocking down 54.5 percent of his attempts from the field and 60.0 percent of his shots from 3-point range.
One can only imagine how the series would've turned out had Leonard been available for the entirety of it. It's yet another disappointing end to a season for the Clippers.
The team hasn't been able to enjoy much postseason success during the Leonard-Paul George era due to different injuries to both stars. The Western Conference Finals is the furthest the team has made it with the star duo, with that run coming in the 2020-21 season.
Of course, Leonard missed the entirety of that series due to the knee injury he suffered against the Utah Jazz in the series before.
There are many around the league that believe it's time for the Clippers to blow things up and rebuild. It'll be interesting to see if Ballmer directs his franchise in that way.